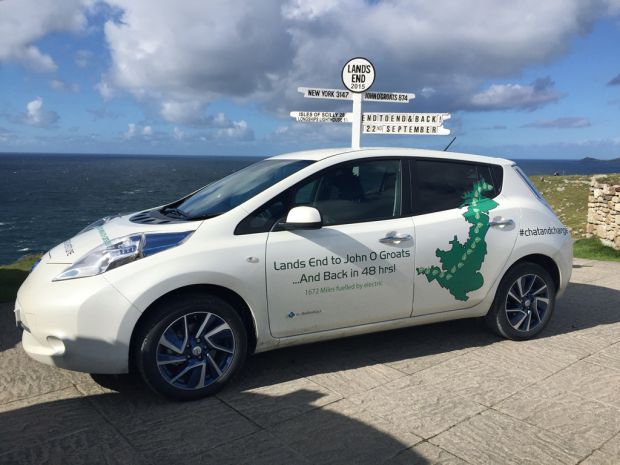 John O'Groats to Lands End in EV road trip
30th September 2015
Two electric vehicle (EV) enthusiasts have completed the epic journey from John O'Groats to Land's End and back again – for free - in an all-electric Nissan LEAF.
Taking just over two days to finish the 1,652-mile journey, Chris Ramsey and Jonathan Porterfield, both from Scotland, used only publicly available EV charging points, taking advantage of the UK's growing charging network, comprising more than 7,000 charging stations.
Many of the charging points that the pair visited form part of Ecotricity's Electric Highway - Europe's largest rapid charger network. These chargers are entirely free to use and are powered by renewable energy sources such as wind and solar power. The Nissan LEAF was 'refuelled' 33 times along the Electric Highway with each charge taking as little as half an hour.
Chris and Jonathan, who are both members of EV enthusiast group Plug In Adventures, took on the challenge to highlight the breadth and scale of charging infrastructure in the UK and to prove the capability and practicality of electric cars.
The first leg of the journey from John O'Groats to Land's End was completed in just 28 hours and 38 minutes, a time that the pair believed to be a new record, and this was quickly beaten when the duo achieved the return journey in just 27 hours 47 minutes.
Robert Tweedie, EV Manager, Nissan Motor (GB) Ltd said: "What Chris and Jonathan achieved was pretty extreme but it's yet more proof of the capability, performance and reliability of the Nissan LEAF.

"Of course most drivers will never undertake a journey like this and the vast majority of owners will only ever need to charge their car once or twice a week to handle their daily commute.

"There are now free-to-use rapid charge points at 95% of UK service stations and so longer journeys are easily within the range of the LEAF and are much more affordable."
The Nissan LEAF is the best-selling pure electric vehicle with almost 200,000 on the road globally. Earlier this month, the new Nissan LEAF 30kWh debuted at Frankfurt Motor Show, delivering 155 miles on a single charge, up 25% on its predecessor.

Older

Articles