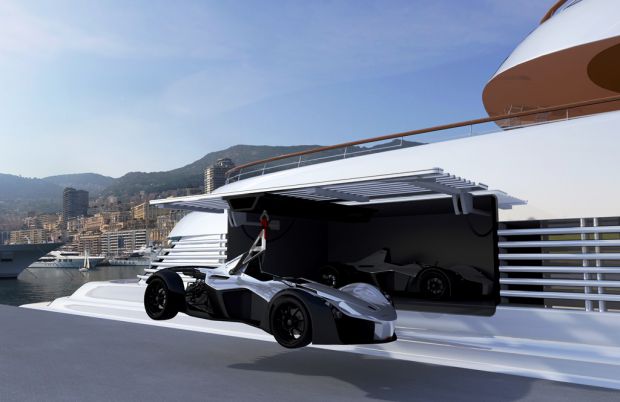 BAC Mono Marine Edition revealed
21st September 2015
BAC unveils its latest iteration of the popular Mono – The Marine Edition. Built on a passion for luxury and exclusivity, BAC has created a Mono that is at home aboard any super-yacht.
Weighing in at only 580kg, the Mono is ideally suited to the super-yacht environment where lean mass, performance and design are paramount.
Based on the Model Year 2016 Mono, the 305bhp 2.5-litre Mountune-powered single-seater car has been custom-made by the top tier luxury British carmaker, BAC. The car, which is completely customisable inside and out, has been created with a focus on luxury marine lifestyle.
The Marine Edition comes complete with a carbon-fibre crane arm designed to transport the Mono on top of any super-yacht, the crane arm can be universally used with all yacht crane systems.
The chassis has been developed with the crane arm in mind too, with custom chassis lifting points for super-yacht crane cradles and mounting to helipads, making sure that the Mono is secure whilst on board.
To ensure that the Marine Edition is kept protected in the salty climates, BAC has developed an anti-corrosive coating for components. BAC will deliver the car with an Environmental Control Container System to stow the car on board with temperature and humidity controls, guarding the car from the marine environment.
Costing £500,000, the Marine Edition is completely bespoke and built to order, reflecting a wider momentum within the BAC brand. With a new dedicated factory in Liverpool, BAC are able to produce four cars per month to compete with strong demand from customers in the US, Europe, South America and Asia at its current capacity.
BAC co-founder Ian Briggs started his career in yacht design and says, "I started my career designing luxury yachts and I have wanted to combine my love of marine and automotive design ever since. The Marine Edition Mono represents purpose and style for a clientele that knows no compromise."
Andrew Whitney, Director of Strategy & Corporate Development at BAC says, "Today's super-yachts are paragons of exquisite taste, exceptional design, and the ultimate experience possible. It is only fitting that owners should be able to extend that experience beyond the vessel upon arrival.
"The Marine Edition Mono is uniquely qualified, with unparalleled design, performance and driving sensation, while its low mass of only 580kg allows vessels to carry even a brace of Monos for a little over a ton. What better way for friends to arrive?"
Older

Articles