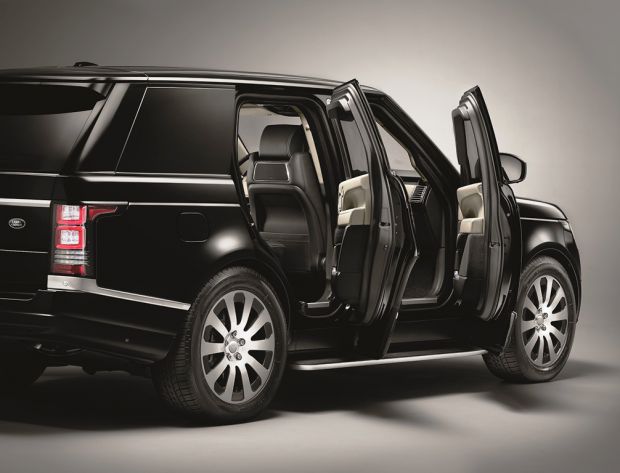 Land Rover SVO introduce new Range Rover Sentinel
7th September 2015
The new Range Rover Sentinel is the first luxury armoured vehicle to be fully engineered by Land Rover's Special Vehicle Operations, (SVO) hand built at its Oxford Road facility, providing the highest levels of protection an SUV can offer against a wide variety of attacks.
The Sentinel is based on the standard wheelbase Range Rover Autobiography. It delivers the supreme comfort, command driving position and all-terrain capability of the Range Rover, while providing peace of mind thanks to outstanding occupant protection and, outwardly, looking identical to the standard model.
This mobile fortress is designed to withstand the most damaging and targeted of threats including penetration by 7.62mm high velocity, armour piercing incendiary bullets. This exceptional vehicle delivers lateral protection against up to 15kg Trinitrotoluene (TNT) blasts and defence against DM51 grenade explosions from both beneath the floor and above the roof.
At its core is a specially-developed six-piece armoured passenger cell, made of super-high-strength steel, providing world-class protection from attack. The standard glass has been replaced by multi-laminated armour privacy glass of optical quality, providing excellent clarity for the driver and occupants, while also delivering bullet protection.
The Range Rover Sentinel is fully certified to VR8 standard against ballistic threats by QinetiQ®, an independent organisation that was formerly part of the British Government's Defence Establishment Research Agency.
The Range Rover Sentinel is fully EU Homologated, available in the UK, Europe, South America, Africa and the Middle East with VR8 level certification.
Available to order from the beginning of September 2015, the Range Rover Sentinel has a guide price from under €400,000 and benefits from a three-year, 50,000-mile warranty. Additional global aftersales support includes scheduled visits each year by a specialised technician.
The Sentinel will make its global debut at the Defence and Security Equipment International Exhibition at London's ExCeL arena from 15th to 18th September 2015.
Older

Articles