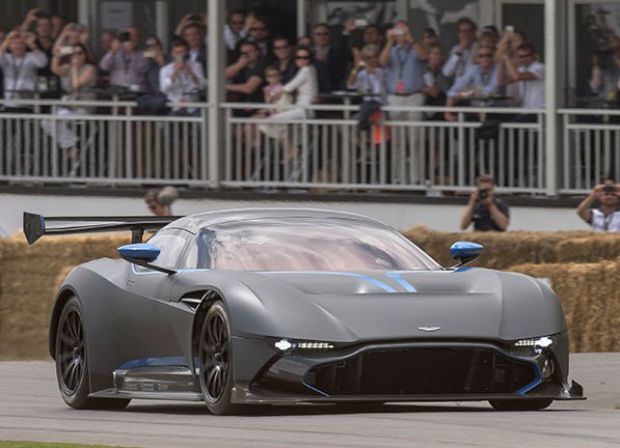 Aston Martin Vulcan lights up Goodwood
26th June 2015
Months of anticipation for Aston Martin enthusiasts around the world are, today, brought to a close with the exciting global dynamic debut of the Aston Martin Vulcan – a track-only supercar and the British luxury brand's most intense and exhilarating creation to date.
Patrons attending today's session of the 23rd Goodwood Festival of Speed in the grounds of historic Goodwood House, West Sussex, have been treated to a historic occasion of their own – with the first public running of the Aston Martin Vulcan following its unveiling at the Geneva Motor Show earlier this year.
The 800-plus bhp, all-carbon fibre, Aston Martin Vulcan today delivered on its promise of truly extreme performance with a series of spine-tingling sprints up the famous hill climb with Aston Martin Racing works' driver Darren Turner at the wheel. Before its inaugural run, the new model was showcased on the Michelin stage in the Supercar Paddock.
Powered by the most potent iteration yet of the company's naturally-aspirated, 7.0-litre V12 petrol engine, the Aston Martin Vulcan is predicted to be capable of sprinting from rest to 60 mph in less than three seconds, and achieving a top speed of more than 200mph.
The new supercar is limited to just 24 examples worldwide and has been designed to allow owners the opportunity to precisely tailor their track day experience through a graduating scale of detailed power and dynamic performance adjustments.
Older

Articles