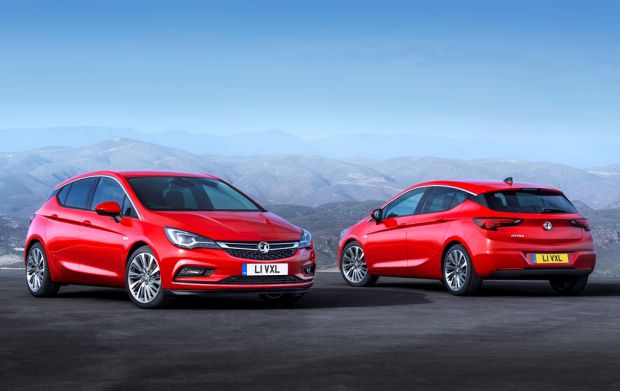 First images of all-new Astra
6th June 2015
These are the first images of Vauxhall's seventh-generation Astra, which will reach production later this year from the company's Ellesmere Port manufacturing plant in Cheshire.
Inspired by 2013's Monza Concept, the lean design makes the new Astra look more athletic than ever before thanks to work carried out by a design team led by Brit Mark Adams. The most significant design cue is the divided C-pillar, creating the impression of a floating roof.
Depending on the model and trim level it will be up to 200kg (130kg on average) lighter than its predecessor. The completely new vehicle architecture plays a major role in the weight reduction. Every component was checked for compact design and lightweight materials.
The all-new Astra features a powertrain portfolio including petrol and diesel units ranging from 100PS to 200PS.
The highlight of the engine range is the all-new 1.4-litre (145PS) ECOTEC Direct Injection Turbo, a four-cylinder unit from the same family as the one-litre, three-cylinder engine seen in Corsa, ADAM and VIVA. The engine delivers maximum torque of up to 250Nm, with maximum power available between 1,800rpm and 4,000rpm.
Based on its construction, the new 1.4 ECOTEC Direct Injection Turbo also adds less weight to the car. The aluminium engine block weighs in at 10kg less than the cast-iron block of the current 1.4-litre turbo.
There's also a base-level 1.0 ECOTEC Direct Injection Turbo (105PS) petrol engine and a 1.6 CDTi 'Whisper Diesel' range with outputs starting from 110PS up to 160PS.
The Astra does not just look smaller – it is smaller. With a total length of 4.37m it is almost 5cm shorter than its predecessor.
The wheelbase may have been reduced by 2cm but the amount of space inside increased. In combination with newly-designed seats, the passengers in the rear can enjoy an additional 35mm legroom. The distance between the front- and rear-seats is increased providing comfort and space.
The high-quality cockpit and the instrument panel seamlessly transfer the characteristic and aesthetic exterior design to the interior, ensuring that a new interior design generation is introduced in the new Astra. It features a clean look which includes a large colour touchscreen in the centre stack and a reduced amount of control switches and buttons.
The new Astra is the first new Vauxhall model that will be available with the personal connectivity and service assistant OnStar from its launch. Making its debut in new Astra is the new generation IntelliLink infotainment system that is compatible with Android Auto and Apple CarPlay.
The all-new Brit-built Astra will be the first Vauxhall to get glare-free IntelliLux LED Matrix Light. Bringing premium technology to the mainstream, these new LED headlights provide outstanding night time performance enhancing safety for the driver and those around them.
Older

Articles