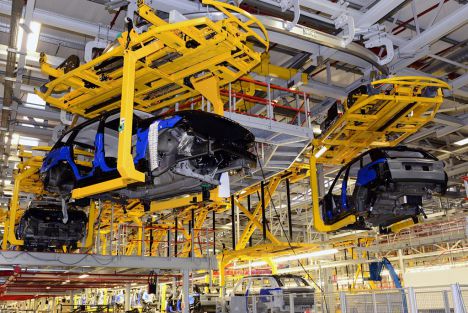 UK car production surpasses 500,000 in April.
28th May 2015
New figures released today show the UK surpassed the 500,000 milestone for car production this April, with 530,505 new cars built so far this year.
Production for the domestic market is up 19.4% in the first four months of the year, reflecting strong performance in the UK new car market. The figures come as the UK automotive industry gears up for a wave of new models following billions of pounds worth of recent investment into the UK. Among the global manufacturers investing in UK production are Bentley, Honda, Jaguar Land Rover and MINI – all with new products due to roll off production lines in the next few months.
Mike Hawes, SMMT Chief Executive, said, "UK car production has escalated in recent years and continues to perform steadily in 2015. Manufacturers across the country are poised to see yet more growth following multi billion pound investments and, providing global markets perform well, output is on track to reach record levels in the next few years."
| | | | | | | |
| --- | --- | --- | --- | --- | --- | --- |
| Car manufacturing | Apr-14 | Apr-15 | % Change | YTD-14 | YTD-15 | % Change |
| Total | 133,437 | 128,312 | -3.8% | 538,240 | 530,505 | -1.4% |
| Home | 26,930 | 29,930 | 11.1% | 113,435 | 135,445 | 19.4% |
| Export | 106,507 | 98,382 | -7.6% | 424,805 | 395,060 | -7.0% |
| % export | 79.8% | 76.7% | | 78.6% | 74.5% | |
Older

Articles