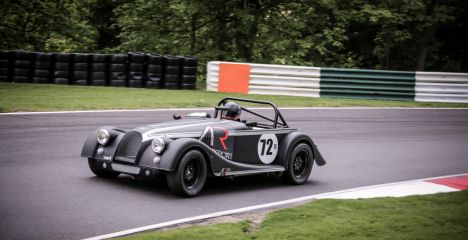 Morgan and AR Motorsport complete first customer ARV6
20th May 2015
The latest addition to the AR Motorsport Challenge Series was introduced last Friday as the race team at Pickerlsiegh Road completed the first customer ARV6. The completion of the V6 Roadster based race car came just one day before the Challenge Series meeting at Cadwell Park.
The first customer ARV6 was finished at the Morgan works in Malvern last Friday (15th May 2015). Based on the 3.7 litre V6 Roadster, the ARV6 receives full race preparation and specialist modifications from AR Motorsport, the racing division of Morgan.
Offering performance and handling that goes beyond any previously produced Morgan race car, the ARV6 is available from all AR Motorsport accredited Morgan Dealers. This, the first customer car, has been purchased through Revolutions Scotland for a private customer that has raced in the Morgan Challenge Series for many years.
Proud new owner Tom Dailey was trusting enough to allow Russell Patterson, owner of Revolutions Scotland, to drive the car on its first outing at Cadwell Park just 24 hours after being finished.
Qualifying in pole position, Russell raced the ARV6 to victory in Class B breaking the lap record along the way. See the full gallery of images below showing the ARV6 during build and its debut race at Cadwell Park.
Older

Articles