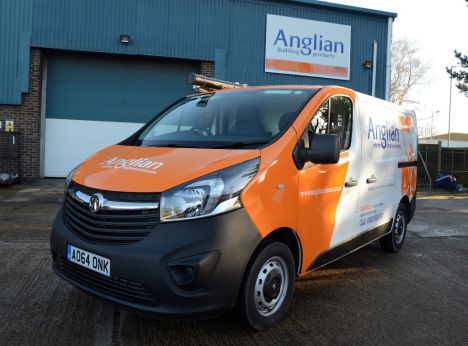 Vauxhall's Brit-built Vivaro finds a new home
5th May 2015
Vauxhall has supplied Anglian Home Improvements, the UK's leading home improvements company, with a fleet of 29 new Vivaros. The latest model, which was launched last summer, will help the company reduce its fuel consumption and whole life operating costs of its fleet.
The vans are 2900 L1H1 specification, powered by a 1.6CDTi (90PS) engine with Start/Stop. They have been delivered to Anglian Home Improvements and are already being enjoyed by the company's regional service engineers who drive an average 30,000 miles per year.
Michael Shepherd, Fleet Manager for Anglian Home Improvements, explains: "Initially it was the excellent fuel efficiency that attracted us to the Vauxhall Vivaro, but when we came to experience the new model, we were extremely pleased with the smart interior and the in-cab technology, which includes a modern infotainment system and DAB radio.
"We've already received excellent feedback from our drivers who have said that the vehicles are both comfortable and good to drive. Keeping our employees happy is extremely important to us, so we're very pleased with the comments," he continued.
As well as class-leading build quality and practicality, the new Vivaro has an improved cabin which has been designed for comfort and control. With its Start/Stop function and ecoFLEX technology, the new 1.6-litre Vivaro also boasts improved fuel economy of 46.3 mpg and CO2 emissions of just 160g/km, which has reduced total cost of ownership for Anglian Home Improvements.
National Commercial Vehicle and B2B Sales Manager at Vauxhall, Richard Collier, said: "We're really pleased to hear such great feedback from the drivers and fleet manager at Anglian Home Improvements.
"The Vivaro has been designed to be both practical with its increased payload and cargo space, and enjoyable, with its high quality interior, modern technology and comfortable cabin."
Older

Articles