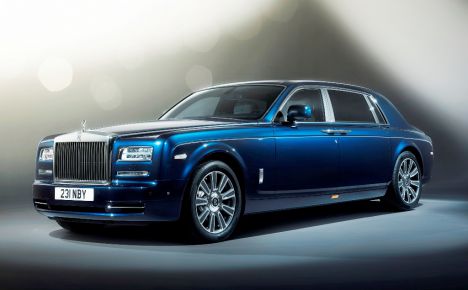 Rolls-Royce announce new Limelight Bespoke Phantom Collection
23rd April 2015
British engineering ingenuity and artistic creativity have proven to be the inspiration behind the naming and creation of the latest Bespoke Phantom Collection to emerge from the Home of Rolls-Royce in Goodwood, England.

The Rolls-Royce Phantom Limelight Collection has been conceived for that select group of people who spend their lives in the public eye and on the world stage. Its name was inspired by the origin of a British invention which became synonymous with fame. The limelight effect was originally discovered in the 1820s by Sir Goldsworthy Gurney, a prototypical British gentleman scientist and inventor of the Victorian era. It was harnessed to revolutionise illumination in the theatres of London's Covent Garden, highlighting leading actors on the stage, thus leading to the phrase, 'in the limelight'.

"In creating the Rolls-Royce Phantom Limelight Collection, our designers have delivered authentic luxury by thinking deeply about the lifestyles of the powerful people who operate in the public eye and move swiftly from engagement to engagement as part of their daily life," explains Torsten Müller-Ötvös, Chief Executive Officer of Rolls-Royce Motor Cars. "The result is a beautiful, discreet motor car in which those for whom the world is waiting can prepare, relax and arrive in the finest luxury and style."

In common with its sister Phantom Serenity, which was unveiled to the world at last month's Geneva Salon, Limelight proves once again why Phantom is considered 'the Best Car in the World'. The Bespoke designers at the Home of Rolls-Royce in Goodwood have used their deep understanding of the habits and behaviours of those powerful people, who make and influence world-changing decisions every day, to create a collection of 25 super-luxury motor cars that cater directly to their busy lives like no other car maker can.

Limelight's wholly new approach to luxury once again sets the benchmark by delighting the most demanding and exacting people in the world – Rolls-Royce customers. Once again Bespoke IS Rolls-Royce.
Older

Articles