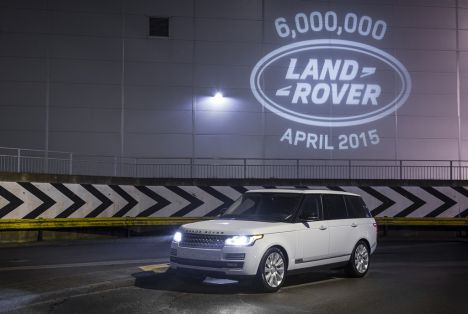 6,000,000th Land Rover lights up Solihull
20th April 2015
Land Rover is celebrating the production of its landmark 6,000,000th vehicle by giving it a unique design feature.
The completion of a Yulong White Range Rover LWB Vogue SE on 2 April saw Land Rover hit the manufacturing milestone and the 6,000,000th vehicle has been fitted with a bespoke puddle lamp graphic to signify its unique status.
The luxury SUV takes centre stage at the 2015 Shanghai Auto Show showcasing its one-off motif, which replaces the standard Range Rover silhouette projected by the vehicle's puddle lamps. The image is created by an inscribed lens within the door mirror-mounted downlight and displaying the Land Rover logo and landmark figure.
The illuminated graphic, which is the width of a grain of rice, is projected through a magnifying lens onto the ground every time the vehicle is unlocked in an image which is 80cm in diameter. This same graphic was projected on to the wall of the Solihull manufacturing facility to mark the moment when the 6,000,000th vehicle rolled off the production line.
Andy Goss, Director, Group Sales Operations, Jaguar Land Rover, said: "For 67 years Land Rover has been building the world's most capable all-purpose vehicles. Over this period, a range of ground-breaking innovations and technologies have blended great design, refinement and unmatched all-terrain capability.
"It's fitting that the 6,000,000th Land Rover to be produced is a Range Rover, since this year marks the 45thanniversary of the original Range Rover's launch and even today, the vehicle remains peerless. With the growth of sales in China since the latest version of the Range Rover was introduced in 2012, it is entirely appropriate that this landmark vehicle is destined for a Chinese customer."
The 6,000,000th Land Rover debuts on the Land Rover stand at the Shanghai Auto Show, and will subsequently feature in a number of celebration events being staged in China to mark Range Rover's 45thanniversary. Ultimately this special Range Rover will be sold in the region and its specially commissioned puddle lamps will serve as a permanent reminder of the significance of this unique model in Land Rover's history.
Older

Articles