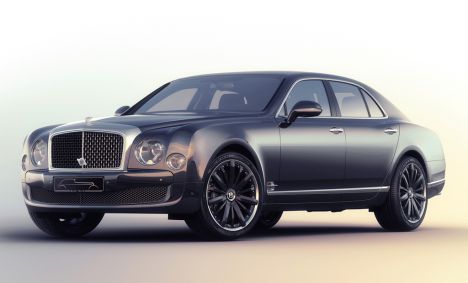 Exclusive Bentley Mulsanne Speed 'Blue Train' to commemorate famous race
16th April 2015
Bentley Motors is commemorating the historic 'Blue Train' race won by the Bentley Speed Six in 1930 with a Mulliner Limited Edition – the Mulsanne Speed 'Blue Train'.
Debuting this week at the Techno-Classica show in Essen, Germany, just four examples will be hand-crafted in Crewe for customers in continental Europe.
85 years ago, Captain Woolf Barnato, Chairman of Bentley Motors and pioneering 'Bentley Boy', was staying in Cannes at the Carlton Hotel. He accepted a wager that not only could he beat the Calais-Mediterranée Express or 'Blue Train' back to Calais, but that he could be at his club in London before the train even reached the English Channel. He was, and the remarkable victory has been talked about ever since.
The 'Blue Train' Limited Edition is produced by the skilled craftsmen and women of Bentley's bespoke coachbuilding division, Mulliner. Each features a number of delightful historical references and modern interpretations of design details from the original Speed Six.
For example, the fluting pattern in the door panels and the rear quarter inserts echo the interior of Barnato's original car. The dashboard facia features an expertly crafted veneer image of the original Bentley 'Blue Train' Speed Six. Meanwhile, the treadplate plaques bear the wording 'Blue Train 85 Years' and the front grille features a square mesh design inspired by original Speed Six.
Richard Charlesworth, Head of the Bentley Heritage Collection, comments: "The Blue Train is one of the most famous and celebrated cars in the world, and it perfectly embodies the racing spirit of the Bentley. Woolf Barnato was a three-time Le Mans victor, but winning the Blue Train race captured the public's imagination, and fuelled the legend of the Bentley Boys. By beating the Calais-Mediterranée Express he forever guaranteed the Speed Six's place in automotive history."
The first 'Blue Train' Limited Edition delivered will also feature a personalised hamper, trimmed with Burnt Oak and Camel hide to perfectly match the interior of the car. Mulliner has crafted beautiful leather cutlery holders and a leather rug wrap-around, both featuring 'Blue Train' embroidery. The hamper contains exclusive Robbe & Berking silver plated cutlery, Haviland Limoges porcelain crockery, LINLEY crystal champagne flutes and a 100 percent Angora picnic rug, woven in Scotland.
Robert Engstler, Regional Director Europe, added: "The fact that we are producing just four of these Limited Editions is highly significant, as Barnato famously made it to the club in London four minutes before the train arrived in Calais. The unique design elements bring back nostalgic memories of one of the most legendary Bentleys of all times."
Older

Articles