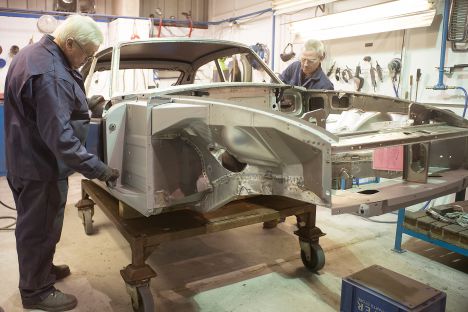 BMH boasts nearly 30 years of MGB bodyshell production
14th April 2015
As British Motor Heritage (BMH) completes another batch of replacement bodyshells for the venerable MGB, it is incredible to note that the company has now been manufacturing them for 28 straight years – ie nine years longer than they were made by the MG factory itself, whose production span began in 1962 and was cruelly terminated by the BLMC management in 1980.
The key point about the BMH shells are that they're produced to original specification via the original press dies and assembly jigs, which are continually inspected and refurbished to maintain optimum performance – the products are therefore every bit as accurate as those constructed in Abingdon 50 years ago. Only top grade automotive steel is employed, and each shell is supplied complete with a full coat of high build primer, thereby guaranteeing excellent pre-build protection and minimal preparation prior to the application of the final paint finish.
No less than 14 variants of the MGB shell are available, which between them cover: the four-cylinder roadsters and GTs of all years, in both left and righthand drive configuration; the V8; and even cars being converted from rubber to chrome bumper specification. Prices start from £8,250.00 (including VAT) and the shells are available direct from BMH's online retail arm (www.motoringclassics.co.uk) or via any of the company's accredited dealers, as listed on www.bmh-ltd.com. Production is currently running at around 30-35 shells per annum.
Said BMH Managing Director John Yea: "One of many great things about the MGB is that good quality spares are so readily obtainable throughout the world, which has allowed generation after generation to enjoy this great British sports car, and we are proud to have been a major contributor to that longevity for all these years."
BMH is the world's largest manufacturer of replacement bodyshells and panelwork for British classic cars. It was established in 1975 and has so far built well over 6,000 replacement shells for the MGB, MGR V8, MG Midget, Austin-Healey Sprite, Triumph TR6, original Mini and Mini Clubman, as well as many thousands of individual replacement panels for these and other models.
Older

Articles