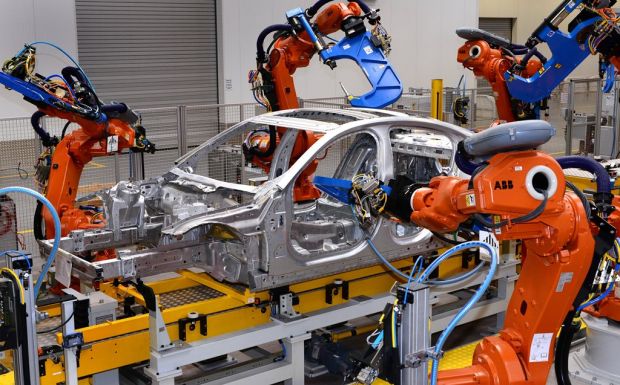 UK suppliers share in JLR's success
14th April 2015
Jaguar Land Rover's Solihull Manufacturing Plant today marked another significant milestone in its 70 year history as it welcomed the Jaguar brand to the site for the first time. The West Midlands based plant marked the beginning of production of the all-new Jaguar XE with the official opening of its state-of-the-art £500m 'factory within a factory'.
The Jaguar XE, which represents the culmination of more than £2bn of product, infrastructure and technology investment, has been heralded as vitally important for the British automotive supply chain thanks to an additional £4bn worth of contracts committed to 55 UK based tier one suppliers. Together these suppliers, which cover the length and breadth of the country, have provided 55% of the components to this all-new model in the Jaguar line-up.
Jaguar Land Rover Purchasing Director, Ian Harnett, said of the impact of Jaguar's latest model: "Jaguar Land Rover is one of the UK's success stories, not simply because it has seen an upsurge in demand thanks to sustained investment, but because it has been able to support a burgeoning, high-tech, highly skilled supply base here in the UK. With each successive new or upgraded model, we are seeing the positive impact felt amongst the entire automotive sector which is great news for everyone committed to ensuring the UK remains truly competitive on a global stage."
Amongst those suppliers who have felt the positive impact of Jaguar Land Rover's continued investment in product creation is Rosti McKechnie, a Yorkshire based plastics specialist awarded a £75m contract for the Jaguar XE. The company has taken advantage of the opportunity presented by the growing UK automotive industry, installing a host of new robotic machinery following an investment of £18 million from its new Swedish owners. Their work force has doubled and is set to grow further in support of this contract award. In the Midlands, Rugby based Automotive Insulations, a company which manufactures thermal and acoustic insulation has invested in a new 65,000 sq. ft. premises to accommodate its expanding workforce in preparation to supply the Jaguar XE. Birmingham based Sertec Group has invested £15 million in new presses, robotics and site upgrades, primarily at their Tyseley plant. This in turn has led to the creation of 107 new jobs to work on this vehicle alone.
Older

Articles