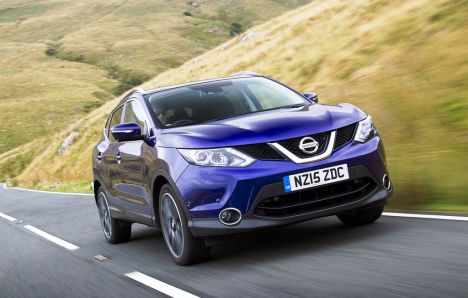 Qashqai wins at Fleet News Awards 2015
27th March 2015
The all-conquering Nissan Qashqai has been named best mid-sized SUV at the Fleet News Awards 2015.
The prestigious award underlines the British-built model's all-round appeal to fleet operators and company car drivers.
In 2014, almost 27,000 Qashqai were registered to fleet customers in the UK, helping Nissan's corporate sales team to its best ever passenger car volume of 63,358.
The Qashqai is now the fifth bestselling fleet car in the UK.
Presenting the award, Stephen Briers, Editor-in-Chief of Fleet News, said: "The Qashqai has appeal across all sections of fleet, from user-choosers to Motability users. It is a compelling proposition as both new and used – with very strong residual values – and is an excellent all-rounder with competitive fuel consumption and CO2emissions plus a high-quality interior. New engines introduced by Nissan last year have made a great car even better."
Barry Beeston, Corporate Sales Director at Nissan Motor (GB), said: "We are absolutely delighted to receive this award as it recognises the enormous impact the Qashqai has made in the fleet sector."
He added: "It's now more than a year since the Qashqai was launched and, despite increased competition, it continues to top the polls and pick up industry awards.
"But winning an award from a title like Fleet News, which understands the needs and opinions of fleet customers, is particularly pleasing."
Older

Articles