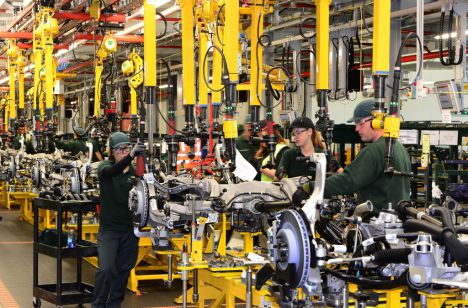 Over 250,000 cars built in UK this year
19th March 2015
"The outlook for the car manufacturing sector continues to be upbeat. More than a quarter of a million cars have been made in Britain so far this year – a steady performance, which has been led by a strong domestic market," said Mike Hawes, SMMT Chief Executive.
"The UK's appetite for British-built cars has consistently grown, with the number of cars produced for the home market increasing 51.9% since 2011. However, political instability abroad has hit certain export areas which will invariably have a small impact on total output."
Car makers have invested heavily in UK production facilities, and this is expected to come to fruition in the coming year. Furthermore, the number of UK-produced components in British cars has risen steeply, meaning resilient car output will benefit the whole sector.
| | | | | | | |
| --- | --- | --- | --- | --- | --- | --- |
| Car manufacturing | Feb-14 | Feb-15 | % Change | YTD-14 | YTD-15 | % Change |
| Total | 133,730 | 129,915 | -2.9% | 262,645 | 257,300 | -2.0% |
| Home | 27,913 | 33,813 | 21.1% | 53,294 | 64,176 | 20.4% |
| Export | 105,817 | 96,102 | -9.2% | 209,351 | 193,124 | -7.8% |
| % export | 79.1% | 74.0% | | 79.7% | 75.1% | |
Older

Articles