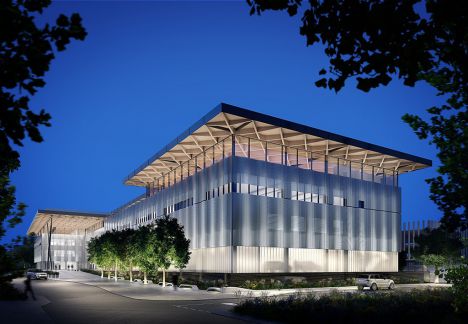 Construction begins on new JLR Innovation Centre
17th March 2015
Mr Ratan Tata (Chairman Emeritus of Tata Group), Mr Cyrus Mistry (Chairman of Tata Group) and Jaguar Land Rover Chief Executive Officer Dr Ralf Speth joined Professor Lord Bhattacharyya (Chairman and Founder of WMG) to unveil the foundation stone for the new National Automotive Innovation Centre (NAIC) at the University of Warwick today.
The ceremony marked the formal launch of the construction phase for the £150 million project which will create a new, cutting-edge UK automotive technology, innovation and education centre.
The 33,000 sq m facility, which is due to open in Spring 2017, will become the hub for Jaguar Land Rover's advanced research and will boast cutting-edge workshops, laboratories, virtual engineering suites and advanced powertrain facilities, equipped to enable a full range of design, visualisation and prototyping activities.
The development of the NAIC project is the next stage in Jaguar Land Rover's strategy to develop its global R&D and engineering capability. Jaguar Land Rover today employs more than 8000 engineers and designers in the UK and is investing more than ever before in new technologies, skills and facilities. In the financial year 2015/16 the business will invest up to £3.8bn in product creation.
Older

Articles