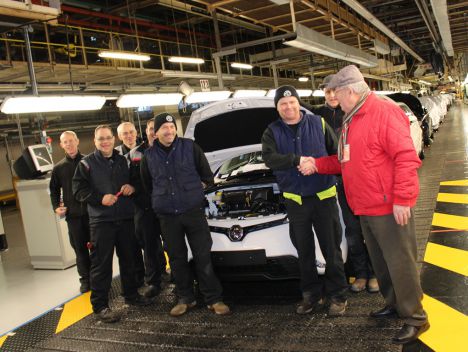 Quality shines through with MG3
2nd March 2015
Bruce Harrison was so impressed with his MG3 that he insisted on visiting the factory where it was built to personally thank the workers.
What made Bruce's praise even more significant is that he has spent a lifetime working as a professional quality engineer, so has a keen eye for detail and quality. And the MG3 got 10 out of 10 from Bruce!
Chatting to workers on the final assembly line at MG's Longbridge factory in Birmingham, Bruce said: "I just can't fault it. It's the best car I've ever had and I just had to come along and thank you all for making it so special.
"Everything about the car is really good, from the overall assembly quality to the ride and low noise levels. I'm really impressed and I've got a lifetime of owning cars and working in the industry behind me.
"Paint quality is really good and the little details are great too – like the flat-sided gear knob that just falls so perfectly to hand."
Bruce, from Sedgley, Dudley, bought his white MG3 3STYLE, from Summit Garage in Dudley. It's the first MG that Bruce has bought. He traded in a Ford C-Max against the MG.
He worked for Ford for many years and also for leading automotive supply companies, including Rubery Owen. Bruce specialised in material sciences and engineering quality and holds a string of professional qualifications. He's both an IEng incorporated engineer and a Member of the Chartered Quality Institute, Chartered Quality Professional, MCQI CQP.
Now Bruce, who is a vintage motorcycle fan and owns two 1929 Sunbeam bikes, plans to have a tow-bar fitted to his MG3 so that he can pull a small trailer.
John Newey, Summit Garage's Sales Director, is not surprised that Bruce is so impressed with the quality and value of the MG3. He said: "We have now sold almost 100 MG3s and everyone who takes one for a test drive says how fantastic the car is.
"I've been an MG dealer for more years than I care to remember and I can honestly say that the MG3 is as good, if not better, than any of the much-loved MG classics."
The MG3, alongside the MG6, is designed and engineered at the MG Birmingham site in Longbridge, where final assembly also takes place.
Launched in September 2013, the MG3 benefits from an ultra low 4E insurance group, strong residuals of up to 61 per cent, exceptional interior and boot space, class leading chassis and driving dynamics and high levels of equipment on all specifications as standard. There are also more than a million personalisation options as well as exceptional value for money aftercare packages to choose from. The MG3 is priced from only £8,399 to £9,999, or on PCP with zero percent deposit or from only £99 a month.
The MG3 was recently selected by Autocar as one of its 'Best 50 Cars on Sale Today', ranking alongside exotic models from the likes of Ferrari, Aston Martin and Porsche. Leading motoring guru Andrew Frankel ranked the MG3 ahead of cars such as the Audit TT and Vauxhall VXR8 GTS.
Older

Articles