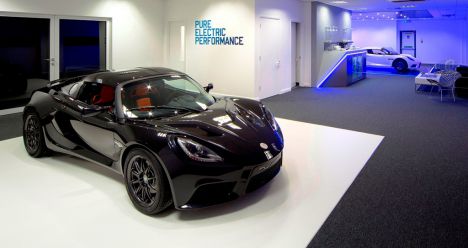 Detroit Electric design store concept announced
27th February 2015
Detroit Electric has revealed the unique and innovative design of its first flagship store, which has been constructed on the same site as the company's dedicated production facility in Europe.
The distinctive dealer showroom design concept harmonises with the clean and futuristic styling of the marque's debut production model, the exciting SP:01 pure-electric sports car, which will soon begin production at the plant in Leamington Spa, UK.
Clever interior details in the flagship store include reception and office furniture with clean lines, some seemingly cast in concrete for a thoroughly modern, industrial look, but which are then complemented and softened by recognisably classic modern furnishings such as Corbusier sofas and leather-and-chrome Marcel Brueuer Wassily chairs.
Customers will be able to 'build' their own SP:01 on large touchscreen displays in the showroom to unique, bespoke specifications, before discussing their vehicles in detail with Detroit Electric staff in a dedicated, exclusive customer area in the store.
"Laying down this showroom marker is an important step as we gear up to the start of production of our first model and prepare to roll it out to our first dealers in Asia and Europe," said Albert Lam, Chairman and CEO of Detroit Electric.
"Our flagship store design reflects the pioneering design and technology values of a brand that can trace its roots back to 1907 – now revived a little over a century later," he added. "The showroom is a visually-arresting and stylish environment where a customised lighting theme literally highlights our 'pure-electric' clean power product proposal."
Older

Articles