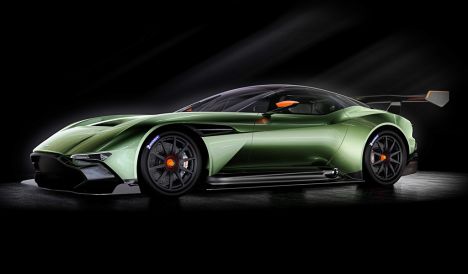 Aston Martin Vulcan prepares to take-off for Geneva
25th February 2015
Introducing the Aston Martin Vulcan – a track-only supercar and the British luxury brand's most intense and exhilarating creation to date.
Born out of extensive motorsport experience – and using the brand's acknowledged flair for design and engineering ingenuity – the 800-plus bhp, all-carbon fibre Aston Martin Vulcan promises truly extreme performance.
Uniquely for Aston Martin, the new supercar – limited to just 24 examples worldwide – will allow owners the opportunity to precisely tailor their track day experience through a graduating scale of detailed power and dynamic performance adjustments.
CEO, Dr Andy Palmer, said: "Aston Martin Vulcan is, by its very nature, a rare and thrilling supercar. Designed and engineered to deliver a genuinely bespoke driving experience that draws on our rich heritage, this car tailors its power and handling to both the capabilities of the driver and the characteristics of the track.
"A sports car for true sports car lovers, I believe the Aston Martin Vulcan – and the unique ownership programme that sits behind it – sets a whole new standard in the ultra-high luxury supercar class."
Performance data, together with further technical details about the ultra-exclusive track-only supercar, will be released closer to its track debut later this year.
The Aston Martin Vulcan will make its world debut on the brand's new stand at the 85th Geneva International Motor Show (Hall 5 Stand 5253) at 10.15am on Tuesday March 3.
Older

Articles