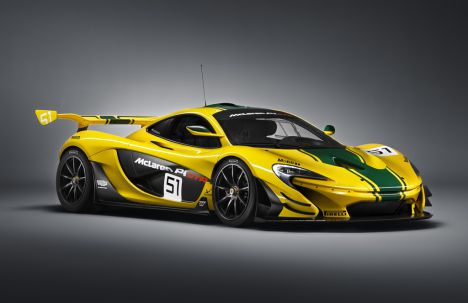 McLaren show new images of the P1 GTR
18th February 2015
The track-dedicated 1000PS McLaren P1™ GTR will debut at the 85th International Geneva Motor Show in limited production form with only minor modifications to the Design Concept presented just six months ago. The most noticeable change is the livery that the Geneva show car will be sporting.
It is one which will be available to the fortunate few who will be joining the McLaren P1™ GTR Driver Programme that kicks off at the Circuit de Catalunya in Spain later this year. The design is homage to the yellow and green McLaren F1 GTR, chassis #06R, which has claimed its own place in history as one of the five F1 GTRs that dominated the 24 Hours of Le Mans in the historic debut by McLaren 20 years ago.
The McLaren P1™ GTR joins the road-going McLaren P1™ in the Ultimate Series. This exclusive range prioritises aerodynamics and outright performance through notable advances in weight reduction, chassis and powertrain engineering and the use of pioneering materials.
McLaren has now established a three tier naming structure of Sports Series, Super Series and Ultimate Series. The Sports Series is the entry point to McLaren and will make its global debut at the 2015 New York International Auto Show in April. Above this sits the core McLaren Super Series, comprising the 650S, the Asia-only 625C and the recently-announced 675LT which will premiere at the Geneva Motor Show.
The McLaren P1™ GTR will make its global debut alongside the recently announced McLaren 675LT on Stand 1240, Hall 1 at 12.15 CET (11.15 GMT) on Tuesday, 3 March 2015 at the 85th International Geneva Motor Show.
Older

Articles