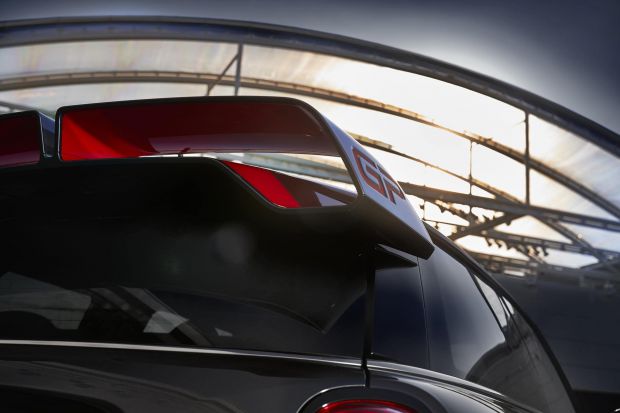 Gearing up for its world debut: the MINI John Cooper Works GP
5th September 2012
A limited-edition road car with race track-developed technology, the MINI John Cooper Works GP is the sportiest and fastest production model ever built under the nameplate of this British premium brand. The MINI John Cooper Works GP will cost £28,790 in the UK. It will make its world debut at the Paris Motor Show (29 September to 4 October 2012), and production of a limited edition of just 2,000 units will start later this year.
Extensively equipped with John Cooper Works motor sport technology, this two-seater boasts outstanding performance to match its distinctive looks. An extensively modified four-cylinder turbo engine capable of developing 160 kW/ 218 hp, adjustable coilover suspension, an extra-powerful sports brake system and model-specific alloy wheels and sports tyres ensure superb handling and outstanding driving enjoyment. The standard-fitted high-traction sports tyres offer awesome cornering grip, impeccable braking response and impressive performance.
And to top it all off, with a DIN unladen weight of 1,160 kilograms, the MINI John Cooper Works GP is one of the lightest sports cars in its class.The balance between the engine, the suspension and the aerodynamics was fine-tuned during intensive testing on the Nürburgring North Loop (the old grand prix circuit), where the MINI John Cooper Works GP promptly clocked up a best lap time of 8:23 minutes – streets ahead of many big-name sports cars from higher segments. With its 0 to 100 km/h (62 mph) sprint time of 6.3 seconds and a top speed of 242 km/h (150 mph), the GP brings an authentic race car feel to everyday driving.
Older

Articles