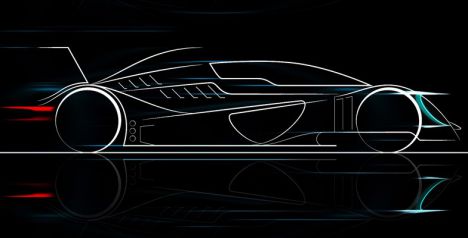 The Evolution of the Caparo T1 continues
10th January 2015
Caparo Industries plc has announced that it is accepting orders for its exciting Caparo T1 Evolution. No details of the new hypercar are being released to the general public yet, but the company have released this message:
"The Caparo T1 Evolution is another testament to our commitment to pursue the unique, the almost unobtainable and cutting edge, both in terms of performance and experience. In creating this new hypercar we have taken into consideration the latest technological developments and safety requirements, and will produce a vehicle which will deliver a breath-taking drive to a limited and highly exclusive group of owners from around the globe.
We understand that the T1 has a huge number of dedicated fans, eager to find out more about the vehicle. However, in the interests of our clients and preserving their rights to a one-of-a-kind experience, we will only be revealing the styling and full specification of the limited edition Evolution to customers at this stage. We would, however, like to state that the new vehicle will have the distinctive Caparo T1 look, will offer a variety of options and full race support packages, and will have a starting price tag of Euro 1.1 million."
However, Caparo have outlined some of the new model's features.
"While the new edition of the Caparo T1 retains all of the race DNA of its predecessor, it also features ultra-modern aerodynamic looks, hugely improved technical specification and performance, and a range of professional race car support products and services that offer a superb track experience. The vehicle has been completely redefined for the next generation and benefits from:
Bespoke power train system with a 700bhp output;
Updated chassis to meet strictest safety criteria;
New suspension configuration for increased stiffness and performance;
Drivability enhancements including ABS, traction and stability control;
Improved driver comfort, cockpit information and driving experience;
Telemetry and communications system.
A range of extras available at delivery or thereafter including Silver, Gold or Platinum parts and Virtual Engineer packages."
Older

Articles