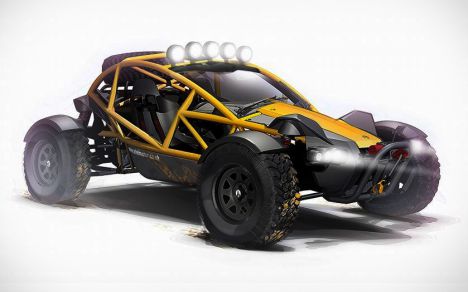 Exciting new Ariel Nomad on the way!
1st January 2015
Details are emerging of the first new car model from Ariel since the launch of the wildy successful Atom track car over fifteen years ago.
The Nomad is designed to be a high performance, all terrain vehicle, that will be very effective off-road without the need of four-wheel drive. Despite the strictly 'dune buggy' looks, the Nomad will also be road legal, perhaps not as quick as the Atom, but able to do may things its sister model cannot. High ground clearance, chunky tyres, long-travel suspension and extensive rollover protection will make the Nomad ideal for recreational and competitive off-road use.
It will probably be powered by a Honda powerplant, but one with a larger capacity unit than in the Atom, to give the all terrrain Nomad that bit of extra low-end torque. It will use the well-proven Honda six-speed manual gearbox.
Low weight, a major factor in the Atom's success, will be a feature of the Nomad as well at just 700kg, about half the weight of the usual off-roader.
Ariel have not revealed a pricing structure yet for the Nomad, although it is likely to cost around £30,000, with a large list of options and upgrades expected to be offered. Deliveries are planned to start by mid 2015.
Older

Articles