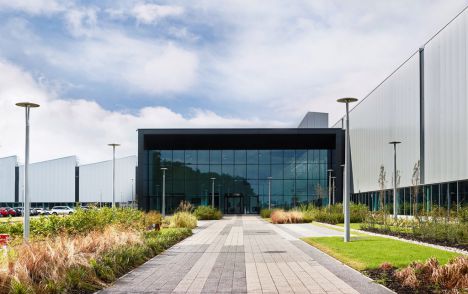 The Queen opens new JLR engine plant
30th October 2014
The opening of the state-of-the-art Engine Manufacturing Centre by Her Majesty The Queen, is a seminal moment for Jaguar Land Rover as it embarks on manufacturing engines in-house for the first time in a generation, confirming its position as the UK's most significant automotive investor.
The Engine Manufacturing Centre will be home to the 'Ingenium' engine family, which will power a new generation of Jaguar Land Rover products designed, engineered and manufactured in the UK. This starts with the 2.0-litre diesel engine in the Jaguar XE. Jaguar Land Rover is transforming its business and brands through a programme of sustainable, strategic investments.
This £500 million facility is the latest demonstration of the company's commitment to supporting the UK's burgeoning manufacturing industry. When operating at full capacity, the Engine Manufacturing Centre will employ 1,400 people with a further 5,500 jobs created in the supply chain, where production of these engines will help provide a critical mass for inward investment.
At the heart of the Engine Manufacturing Centre is a team of people committed to setting a new global benchmark in the way engines are manufactured. Through an unrelenting commitment to training, Jaguar Land Rover is developing the skills required to future-proof its engineering capability and provide a sustainable foundation for continued business growth.
Welcome to the future of engine manufacturing in Britain.
Older

Articles