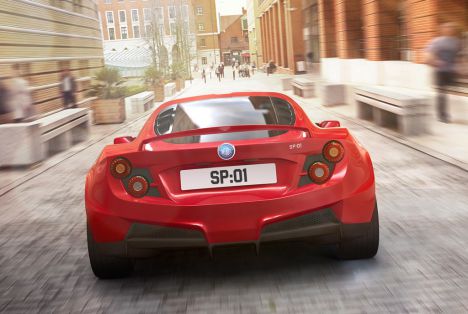 Detroit Electric reveals striking fastback design for the SP:01
27th October 2014
The final exterior design of Detroit Electric's all-new, pure electric two-seater sports car, the SP:01, is revealed today as the company gears up for production.
The lightweight, limited-edition SP:01 will be the world's fastest production electric sports car when it goes on sale in Asia, Europe and North America, starting in 2015. Revealed as a prototype at the 2013 Shanghai Motor Show, the design of SP:01 has been subtly updated to further improve the vehicle's aerodynamic performance, ahead of the start of production at a new facility in the UK later this year.
The most striking element of the design is the bold new fastback configuration, which replaces the prototype's flying buttresses on either side of the rear window. The exterior design has been optimised using computational fluid dynamics (CFD) analysis to provide enhanced airflow and reduce turbulence, for maximum performance and stability.
A large sculptural rear wing and an under-body diffuser have been incorporated to reduce lift and improve downforce at higher speeds. The changes to the production vehicle's aerodynamics are intended to deliver improved on-the-limit road-holding and ensure rewarding and accessible dynamics.
The changes to SP:01's design ensure that it will deliver on its promise to set new standards for performance and handling in the EV segment. Its high-power electric motor will propel the car to an impressive 155 mph (249 km/h) top speed and a 0-60mph time of just 3.7 seconds.
The company's first production car, the SP:01 goes on sale in Asia, EMEA and North America, starting in early 2015. All the cars will be manufactured in a new, dedicated Detroit Electric production facility in Leamington Spa, England.

Older

Articles