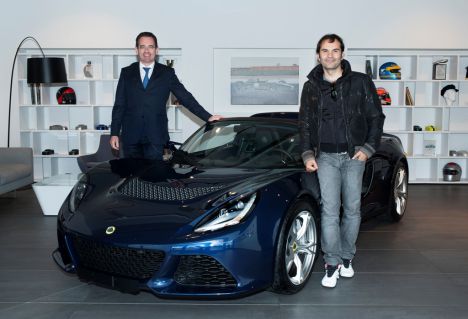 Exciting new Lotus customer experiences
14th October 2014
With the introduction of two new exciting customer experiences, all Lotus customers have the opportunity to visit Lotus for a personal hand-over of their new car, receive a personalised commemorative owner's booklet charting the build of their car and meet the team who brought their Lotus to life.
The experiences also include a tour of the manufacturing facility where every Lotus has been hand built by skilled craftsmen and women since 1967 and a visit to Classic Team Lotus to see many of the iconic race cars of Team Lotus.
For customers looking for the ultimate Lotus immersion there is even chance to spend some time with a Lotus instructor on the famous Hethel test track and get a first-hand insight into how Lotus' ethos of 'pure driving' is engineered into every Lotus car.
Group Lotus plc Chief Executive Officer Jean-Marc Gales said, "Hethel is the heart of Lotus, where we have been designing, developing and building the most exciting and uncompromising handmade British sports cars for nearly 50 years and we are delighted to open our doors to customers so that they can collect their new car from us direct.
"It is here at our Headquarters that Colin Chapman himself conceived and built the original cars that were lighter, faster and more dynamic to drive and race than anything else. The Hethel experience gives our new, existing and future customers the opportunity to see, hear and feel for themselves the ambition that has been core to Lotus; to build cars that give you one of the most thrilling 'pure driving' experiences imaginable."
Older

Articles