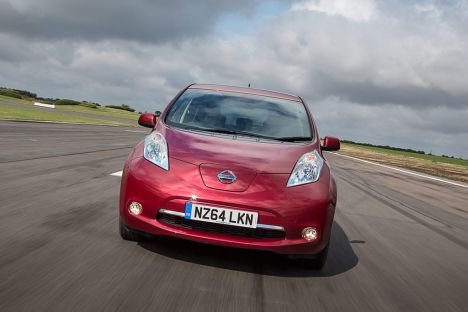 British-built Leaf achieves record sales
6th October 2014
The 100% electric Nissan LEAF has proved itself once again to be the most popular pure electric vehicle in the UK, with sales breaking national and European records in September.
Figures released today by the Society of Motor Manufacturers and Traders (SMMT) show the Nissan LEAF clocked up 851 sales during September, up 156% on the same month last year (332 sold), and topping March 2014 (the previous record month) when 630 were sold. This strong performance was not only a record for the UK, but represents the largest volume of Nissan LEAFs ever sold in one month in a European market*.
Sales of the British-built Nissan LEAF have already bettered the total number of units sold in 2013 (1,812 in total), with 2,969 cars sold so far this year, proving that the model's practicality and low running costs, coupled with its unique driving experience, are keeping it ahead of the competition.
Dig deeper into today's figures released by SMMT, and the data reveals that the Nissan LEAF sold more than double the volume of all other pure electric models combined in September, securing a 72% share of the pure electric vehicle market in the month**. In fact, the data also confirms that the Nissan LEAF is the best-selling pure electric car so far this year, achieving a 68% share of the market.
Paul O'Neill, EV Manager, Nissan Motor GB Limited said: "Sales of the all-electric Nissan LEAF continue to go from strength to strength and it's no surprise that the vehicle that pioneered the EV sector in the UK continues to blaze the trail for the rest of its class."
Older

Articles