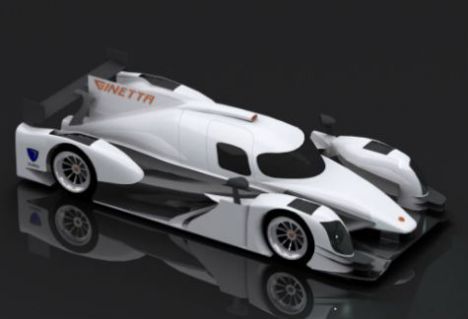 New Ginetta-Juno LMP Track Car confirmed
24th September 2014
Following his purchase of Juno, Lawrence Tomlinson has today confirmed his intentions to build a Ginetta-Juno LMP Track Car, designed to bridge the gap between existing sports car and GT racing and top level sports prototypes.
Boasting a LMP3 homologated carbon monocoque, the Ginetta-Juno LMP Track Car will provide an interim race car for those graduating into sports prototypes from the various Ginetta formulae, as well as a solution for track day enthusiasts looking for a high-specification track car they can use for competition; at a fraction of the cost of their racing rivals.
The Ginetta-Juno LMP Track Car is eligible for competition in the Malaysian Super Series, Open Sports Car Series, Dutch SuperCar Challenge and Britcar Endurance Championship, with the combination of cars complementing the existing Ginetta motorsport ladder and offering drivers an accessible route into Le Mans Prototypes. In addition, its Ginetta-Juno LMP3 sibling carries ACO homologation for European and Asian Le Mans Series.
Ginetta Chairman Lawrence Tomlinson said;"The Ginetta Juno track car will give the full LMP3 driving experience and incorporate all the safety requirements demanded by the ACO and FIA. It will be an unbelievably fast and exciting car to drive, combining latest aerodynamic developments with different power options from 400 – 570 BHP. The highest powered will have comparable power to a full LMP2 car!"
Powered by a Nissan V8 engine capable of 500bhp, the Ginetta-Juno LMP Track Car will house a Xtrac 6-speed sequential gearbox with paddleshift,as well as FIA approved high capacity fuel system and offer extras such as traction control and air conditioning.
The Ginetta-Juno LMP Track Car will look and feel every inch the Le Mans Prototype and shares 75% of the hardware derived and optimised for the Ginetta-Juno LMP3. The state of the art monocoque design has occupant safety in mind and is able to accommodate two adults in the cockpit.
As part of Ginetta-Juno's commitment to the sports car programme and as an added incentive to those committing early, the initial batch of 15 cars will be sold at a celebratory offer of £99,000+vat, which is unprecedented in this market.
Unsurprisingly, the offer has seen overwhelming interest and has already seen cars sold to customers in the UK, Germany and Taiwan, each of whom will be invited to join pre-production testing starting in January, as well as five exclusive track days throughout 2015.
Older

Articles