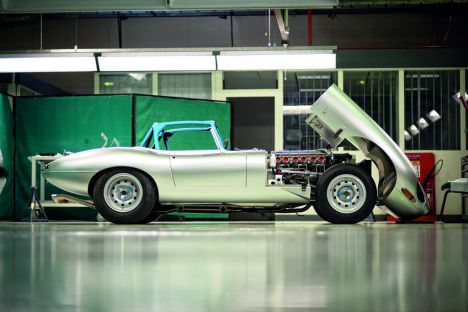 Jaguar Heritage opens new workshop at Browns Lane
10th September 2014
In a significant move for owners of classic models, Jaguar Heritage has opened a brand new workshop facility at Browns Lane, Coventry – the spiritual home of many of our heritage vehicles.
The workshop – the same facility in which the six new Lightweight E-type period competition cars will be built – will offer warrantied servicing and restoration of Jaguar's classic models.
Led by Martyn Hollingsworth, a third-generation Jaguar employee, Jaguar Heritage craftsmen have a unique skillset, which is now available to owners of classic Jaguars.
All servicing and restoration work completed within the Browns Lane facility – which will also be used for the restoration of Jaguar's own heritage vehicles – will be fully warrantied. Customers will be able to visit while work is in progress on their vehicles and, upon completion, they can obtain both a photographic record of the work carried out and a Jaguar approved service logbook.
Said Martyn Hollingsworth, "The recreation of the new Lightweight E-type period competition cars has demonstrated the unique skillset within the Jaguar Heritage team, and I'm delighted the opening of our Browns Lane workshop means we're now able to make those same skills available to the benefit of our global customers."
Older

Articles