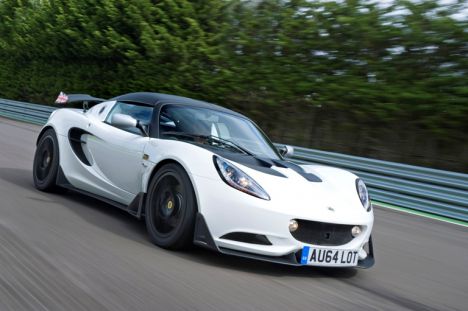 New Lotus Elise S Cup completes testing
5th September 2014
After a successful first season of racing the Elise S Cup R completes the next stage of its development and is evolved with a road focus to bring a touch of motorsport to the road-going Elise. To ensure its race car pedigree is not lost, the Lotus Test and Development team has been putting the newest version of the Elise through its paces on the Lotus test track and the famous 'ring'.
The Elise S Cup has received the same unmistakable and unique aerodynamics as the 'R' version and delivers a significantly enhanced dynamic performance over the standard Elise S. Not only does the focused 'R' inspired aero package have a striking visual appeal, the unique combination of front splitter and winglets, barge boards, rear diffuser, rear wing and a fixed roof create 66kg of downforce at 100 mph and an incredible 125kg of downforce at top speed. As a result, the Elise S Cup generates enough downforce in the corners of the Lotus test track to beat the Elise S by 3 seconds.
The Elise S Cup is the most track focused of the Lotus Elise range. Carrying the 'Cup' brand synonymous with the Lotus Motorsport division, it sits above the Elise, Elise S and Club Racer variants in terms of price and levels of extremity and will be available for purchase through the Lotus dealer network.
Older

Articles