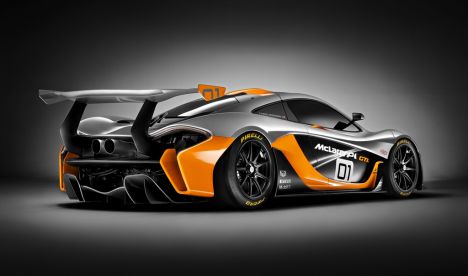 The McLaren P1 GTR concept unveiled
16th August 2014
Twenty years ago, the then soon-to-be-launched McLaren F1 GTR began testing ahead of an assault on the 1995 GT season. The track derivative, as the road-going version had done, rewrote the rule book and the claimed victories and titles across the globe in the years that followed, securing a place in motorsport folklore. Two decades on, and the covers have been pulled off the dramatic and purposeful McLaren P1™ GTR design concept during a private event at the Pebble Beach Concours d'Elegance event in California.
The aggressive racing concept is a preview to the final model which, with a little under a year until production commences, has now entered the next phase as the development team works to hone and further optimise the ultimate track-focused racer. With no need to meet the legislations for road legality, the McLaren P1™ GTR will be the most track-tailored and most powerful model produced by McLaren Special Operations to date, with a clear target even more focused than its road-going sibling: to be the best driver's car in the world on track. With even greater emphasis on aerodynamic performance through the dramatic bodywork, the McLaren P1™ GTR will also feature race-proven slick tyres, a fixed ride height, enhanced power delivery from the IPAS powertrain and Formula 1™-derived DRS from the large, fixed rear wing and an ERS-style push-to-pass system, all combining to offer the ultimate track experience.
Based on the McLaren P1™ road car, the track-focused McLaren P1™ GTR design concept further optimises the aerodynamically efficient 'shrink-wrapped' body shape in order to offer maximum performance, superior handling characteristics and optimised driver engagement on track. A host of changes have been made, and the car has been thoroughly re-engineered from the ground up to ensure the McLaren P1™ GTR achieves its target of being the ultimate drivers' car on track.
Older

Articles