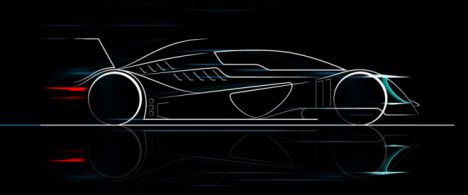 Successor to superfast Caparo T1 on the way!
13th August 2014
This teaser image from Caparo shows the planned successor to the T1, the T1 Evolution for which the company is now taking orders. When the original T1 was launched seven years ago, it claimed to be the fastest accelerating car in history, with a 0-60mph (97km/h) time of just 2.5 seconds.
While the new edition of the Caparo T1 retains all of the race DNA of its predecessor, it also features ultra-modern aerodynamic looks, hugely improved technical specification and performance, and a range of professional race car support products and services that offer a superb track experience. The vehicle has been completely redefined for the next generation and benefits from:
Bespoke power train system with a 700bhp output;
Updated chassis to meet strictest safety criteria;
New suspension configuration for increased stiffness and performance;
Drivability enhancements including ABS, traction and stability control;
Improved driver comfort, cockpit information and driving experience;
Telemetry and communications system.
A range of extras available at delivery or thereafter including Silver, Gold or Platinum parts and Virtual Engineer packages. Prices are still to be announced, but the original car was priced at £211,000.
Older

Articles