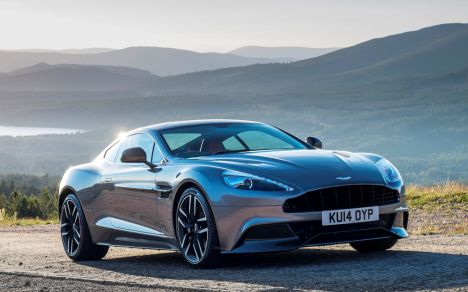 Dynamic enhancements for Vanquish and Rapide S announced
6th August 2014
Aston Martin is today revealing details of a raft of important enhancements to two of the brand's most popular and successful sports cars: the Vanquish ultimate GT and Rapide S four-door, four-seat, sports car.
With the arrival of 15 Model Year (15MY) cars in markets around the world over the next few months, the luxury British brand is offering not only considerably enhanced performance and much-improved fuel economy and emissions, but also an even more honed, precise and responsive driving experience.
With the debut of the new Touchtronic III eight-speed automatic gearbox in both Vanquish and Rapide S – the first time that this state-of-the-art gearbox has been incorporated into a transaxle layout – Aston Martin is improving every major area of the cars' performance and fuel economy. The brand's engineers have worked meticulously with technical partner, ZF, to develop the eight-speed technology and integrate it perfectly into the latest generation of the iconic and much-imitated Aston Martin VH architecture.
The 0-60 mph times for both the Vanquish and Rapide S are reduced in 15MY cars: The Vanquish drops from 4.1 seconds to just 3.6 seconds (3.8 seconds 0-100 km/h) and the Rapide S is capable of the same sprint in only 4.2 seconds (4.4 seconds 0-100 km/h) – also down by a full half second from its previous figure of 4.7 seconds. These impressive gains not only ensure the cars' exceptional competitiveness in their respective sectors, but also confirm Vanquish as the quickest accelerating series production Aston Martin in the company's 101-year history.
Changes to gear and final drive ratios allow the cars to be not only quicker but also more frugal, with reduced emissions too. In both sports cars the CO2 figure drops by an average of ten per cent – down to 298 g/km for Vanquish and 300 g/km for Rapide S – while economy is boosted to 31 mpg (9.1L/100km), on average an 11% improvement, on the EU's extra urban cycle for both the Vanquish and the Rapide S under the same stringent test conditions.
Combined with a revised final drive, the ratio changes also mean both cars are, for the first time, now capable of top speeds of 200 mph (322km/h) or above.
Older

Articles