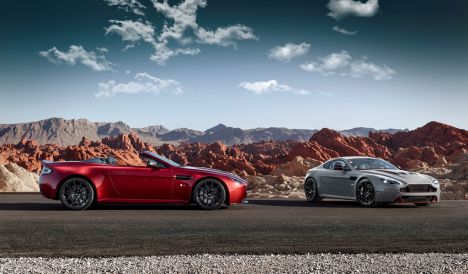 V12 Vantage S Roadster set for global debut at Pebble Beach
4th August 2014
Aston Martin's new 2015 V12 Vantage S Roadster will make its global debut as part of the marque's presence at the Pebble Beach®Automotive Week from 14 August, joined by the new Design Prototype 100 (DP-100), which makes a North American debut.
Providing the most visceral yet engaging open-top experience in Aston Martin's current range, the new V12 Vantage S Roadster delivers characteristic sporting agility underpinned by an enviable sports 'soundtrack' generated by its naturally aspirated V12 engine and expertly-tuned sports exhaust.
Equipped with the latest 565 bhp Aston Martin AM28 6.0-litre V12 engine, featuring state-of-the-art Bosch engine management, the car is capable of reaching 201 mph (323 km/h) and sprinting from rest to 60 mph (97km/h) in only 3.9 seconds.
When it arrives in markets around the world later this year the new sports car will become the luxury British marque's most potent, fastest and fastest-accelerating series production roadster to date and follows in the broad tyre tracks of the V12 Vantage S Coupe that was launched to worldwide acclaim in 2013.
Developed in-house by the Design team at Aston Martin, DP-100 Vision Gran Turismo is a new, virtual-only GT racer that is available for Gran Turismo®6 (GT6™) owners to download and will be shown as a full-size hand-crafted model at Monterey this month.
Older

Articles