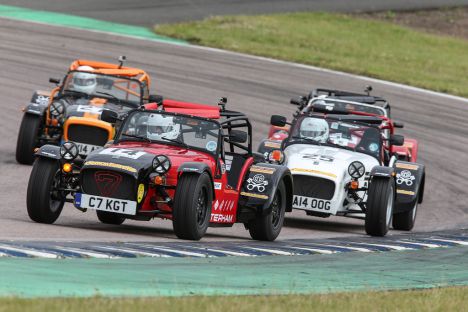 Caterham celebrates 20 years of legendary Academy race series
30th July 2014
The Caterham Academy is celebrating its 20th year of making the dreams of amateur racing drivers a reality.
Since its inception in 1995, more than 900 novice racing drivers have tamed the race licence process, along with their first full season of competition in sprints and race events.
As well as hosting more than 300 individual events in the iconic Caterham Seven sportscar, the Academy's racers have covered enough competitive miles on track to orbit the Earth almost seven times, completing – or attempting – nearly a million corners in total.
The Caterham Academy is widely acknowledged the world over as being one of the best-value introductions to motorsport, with a championship also held in France.
The Academy is an amateurs-only programme, designed to guide competitors through every step, from gaining a competition licence, through car control training and on to real racing at some of the UK's best-known circuits.
Consisting of a combination of handling days, sprints and hillclimbs, and of course five circuit races, the Caterham Academy philosophy is to provide accessible motorsport for all. Over the past two decades, the series has welcomed male and female drivers aged from as young as 16, to over 70-years old.
Caterham's motorsport programme extends beyond the Academy with the Roadsport, Tracksport, Supersport and Superlight R300 series. Many Academy customers catch the racing bug after their first season on the track, and with minor modifications to their cars, climb through the ranks.
The 2015 Caterham Academy season is now open for registration, the all-inclusive package is available from £21,495 for the Seven in component form and £24,495 for a fully factory built car.
Older

Articles