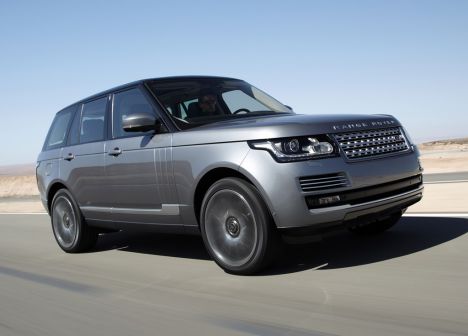 2015 enhancements for Range Rover and Range Rover Sport
15th July 2014
Land Rover is introducing a comprehensive suite of updates to Range Rover and Range Rover Sport for 2015 model year, reaffirming their status as the world's best luxury and premium sporting SUVs, unrivalled in their breadth of capability, both on- and off-road.
The potent SDV8 now produces 339PS and 740Nm – a 40Nm increase – with a fuller torque curve from 1700 to 3300rpm thanks to detailed calibration changes. This improves in-gear acceleration by up to 6.5% from fifth to eighth gear, ensuring effortless overtaking ability and enhanced towing capability. The ZF 8HP70 8-speed automatic gearbox has been re-engineered with a revised torque converter incorporating a twin-spring damper. Despite such a large increase in torque, the SDV8's fuel economy and CO2 emissions remain unchanged at 32.5mpg (8.7L/100km) and 229g/km CO2.
Updated puddle lamps now project each vehicle's silhouette onto the ground at night to light the way for occupants. Fixed panoramic roofs with power blinds are now available and bring an additional sense of space and light to both vehicles' luxurious interiors. Meanwhile, for Range Rover, 19-inch alloy wheels with a Satin Dark Grey finish introduce a stylish option for buyers wishing to use smaller wheels where conditions and surfaces may prove more challenging.
The 2015 Range Rover and Range Rover Sport are available to order from 16th July.
Older

Articles