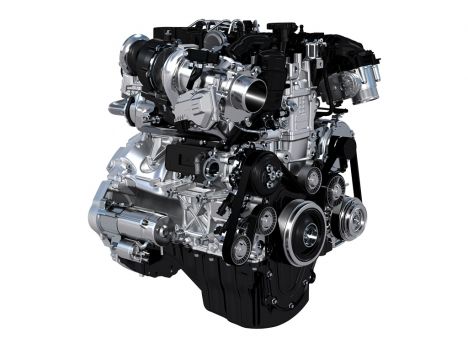 JLR powers up new Ingenium engine family
9th July 2014
Jaguar Land Rover has developed its own new family of advanced technology, low-friction, high-performance petrol and diesel engines to meet growing customer demand for lower fuel consumption and cost of ownership, without compromising performance and the driver experience.
Ingenium's design brief presented Jaguar Land Rover's engineers with a tough and complex challenge. Its new engine family would need to be:
Configurable and flexible to enable seamless installation in a range of new Jaguar and Land Rover vehicles
Scalable up and down to create smaller or larger displacement variants in the future
Able to accommodate a range of powertrain layouts including rear-, all- and four-wheel drive
Engineered to support manual and automatic transmissions as well as electrified hybrid drive systems
Easily accepting of new advances in engine technologies as they become available
Jaguar Land Rover powertrain engineers at the company's Whitley and Gaydon development facilities have based Ingenium's foundation on extremely strong and compact aluminium blocks for both diesel and petrol versions.
These lightweight blocks share the same bore, stroke, cylinder spacing and 500cc cylinder capacity. This helps give Ingenium the configurability and flexibility around which smaller or larger engines can quickly and efficiently be developed to meet future regulatory and competitive requirements. To support the development of this future powertrain technology, including the new Ingenium family, Jaguar Land Rover has invested £40 million to expand and enhance its Powertrain Engineering facility at its Whitley Technical Centre.
All diesel and petrol Ingenium variants will be equipped with state-of-the-art turbochargers that improve performance, particularly at low speeds, and that help reduce consumption and CO2 emissions.
Ingenium's modular design enables both petrol and diesel engines to share many common internal components and calibration strategies. This reduces complexity, raises quality and simplifies manufacturing, and allows Jaguar Land Rover to react more quickly to changes in global demand.
"Customers around the world are increasingly demanding cleaner-running, more efficient vehicles that maintain or even enhance the performance attributes expected of a rugged all-terrain vehicle or a high performance car. Our Ingenium engines deliver this to a new level," said Dr. Wolfgang Ziebart, Jaguar Land Rover Group Engineering Director.
"Engineering and manufacturing our own engines improves our ability to react to changes in demand and improves our ability to react to changes in legislation and competitive technologies in the future," added Dr Ziebart. "We believe that with the range of technologies we are investing in, Jaguar Land Rover can absolutely satisfy the often conflicting requirements of delivering engaging high-performance luxury vehicles that reduce our carbon footprint in the long-term."
Older

Articles