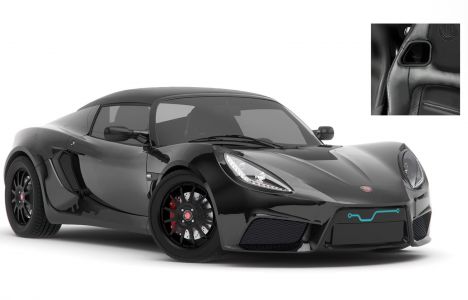 World's fastest EV to be built in UK
5th July 2014
The world's fastest EV (electric vehicle) will be built in the UK. Detroit Electric, one of the most prolific manufacturers of electric cars in the early 20th century, is back with an all-new, pure electric sports car, a new UK production facility and a highly experienced new team that will develop a range of high-performance pure EVs.
The brand's first product, the lightweight, limited edition SP:01 sports cars (pictured), will be the world's fastest production electric vehicle when it goes on sale in European and Asian markets later this year and soon followed by the US introduction.
Detroit Electric has secured additional investment following an initial reveal of the SP:01 in the first quarter of last year. The car has since undergone further extensive development, heralding significant changes to enhance the aerodynamic performance and improve interior comfort and quality. The EV is currently undergoing engineering sign-off tests, and the final styling of the car will be revealed in the coming weeks.
The SP:01 will set new standards of performance and handling in the EV segment. Its high-power electric motor will propel the car to an impressive 155mph/249km/h top speed and a 0-60mph/97km/h time of just 3.7 seconds.
All the cars will be manufactured in a new, dedicated Detroit Electric production facility in Leamington Spa, Warwickshire, which will progressively increase staff levels to 80 by the end of the first quarter of 2015.
Older

Articles