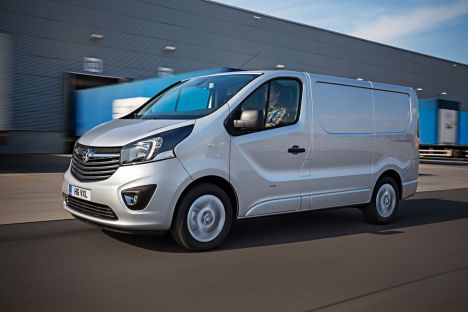 Vauxhall announces pricing and spec for Brit-built Vivaro
28th May 2014
Vauxhall's Luton-built Vivaro is on sale now with list prices starting from £17,995 excluding VAT – that's £450 less than the outgoing model.
With first deliveries expected in September, the lynch pin of Vauxhall's multi award-winning van range is available now in two trim levels: Vivaro and Vivaro Sportive, and four body styles: panel van, double cab, 9-seater combi and platform cab.
Vauxhall has also announced pricing for the 9-seater combi starting at £25,699 to £27,749 on-the-road including VAT and for the platform cab starting at £20,658.33 to £21,858.33 list price excluding VAT.
The all-new Vivaro offers class-leading build quality and practicality with improved cargo dimensions and excellent payload capability. The enhanced cabin is designed for comfort and control with high levels of specification including modern infotainment with DAB radio. It also is equipped with a range of engines including a cutting edge Bi-Turbo that delivers up to 47.9mpg and CO2 emissions as low as 155g/km.
"It's great news that our all-new British-built Vivaro enters the market at such a competitive starting price – £450 less than the outgoing model," said Steve Bryant, Brand Manager, Vauxhall Commercial Vehicles. "Vivaro is the highlight of our van range and boasts a new design, class-leading build quality and practicality and all-new fuel-efficient powertrains."
The New Vivaro is built at Vauxhall's manufacturing plant in Luton, Bedfordshire which has received a significant investment in excess of £185 million.
Over 40 per cent of content for the new vehicle will be sourced locally. The plant and associated agencies directly employ over 1,200 people in the Luton area, and is a significant contributor to the local and wider UK economies.
Vauxhall is the UK's number one manufacturer, building over 44,000 vans in the UK last year, all of which were produced at Luton. Building over treble that of its nearest competitor, it is a position Vauxhall has held for the last 12 years.
Older

Articles