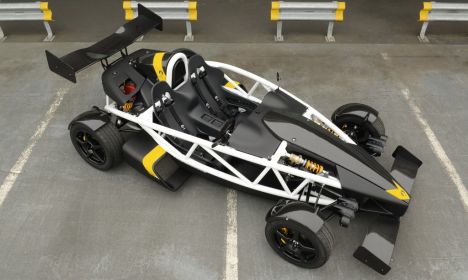 Ariel announce new Atom - the 3.5R
9th May 2014
The new Atom 3.5R is powered by an Ariel tuned Honda Civic Type-R 2.0 Litre iVTEC 4 cylinder engine and features a sequential gearbox, paddle change system, uprated suspension and new bodywork.
Using their 10 years of experience of supercharging the Honda K20 engine, Ariel have developed a charge cooler system which allows supercharger boost to be taken from 7.5psi to 11psi. In 3.5R form the engine now produces 350BHP and over 330Nm of torque, giving this new Atom immense power throughout the rev range still coupled with the legendary Ariel reliability.
Drive is via a new Sadev 6 speed sequential race gearbox with adjustable limited slip differential and different gearsets available to suit individual customer choice. Gearchange is via a pneumatic paddle shift system, first used on the Atom V8, making upshifts in less than 40 milliseconds and downshifts in less than 50 milliseconds with the capability of 5 downshifts in less than a second. The ability to carry out flat upshifts without releasing the throttle coupled with a huge amount of power and torque gives the Atom 3.5R truly remarkable acceleration and performance with complete driver control.
Optional twin side pods house the charge cooler on one side of the car and an Ariel developed remote oil cooler system on the other, maintaining inlet and engine temperatures even under hard track use.
Suspension is via the standard Atom pushrod system but now uprated for the 3.5R with Ohlins TTX36 dampers, designed and valved specifically for the Atom with a choice of optimised Ohlins springs for road, track or race use.
The 3.5R takes the already phenomenal, record breaking Atom performance figures yet one stage further with 0-60mph times approaching 2.5 seconds and 0-100mph in 6 seconds.
Building on the bespoke, British 'Tailor Made' approach and low volume methods that Ariel have become known for the Atom 3.5R is available as a series of options, allowing customers to specify the car for their exact needs and requirements right down to the gearing. The engine, gearbox and suspension options particular to the Atom 3.5R are supported by the usual Atom choices of different bodywork, wheels, tyres, brakes plus numerous road, track and racing components.
'Our aim is to ensure that each customer has exactly the right car for their particular needs', said Simon Saunders, Director of Ariel. 'Our approach means that every car is completely individual, as are our customers, and no two cars are identical. By combining elements of the Atom V8 with the Honda engined cars we have increased customer choice and come up with a truly stunning car'.
Older

Articles