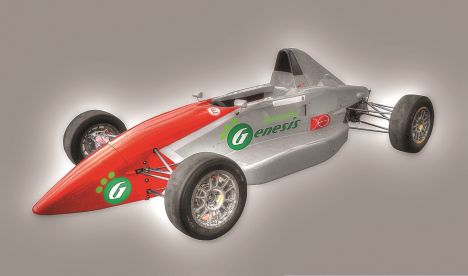 New entry-level single seater eco-race series announced
13th May 2014
British privately owned development engineering firm, DEE-Ltd, will announce on Thursday (15th May) its concept and initial plans for Formula Genesis – a new entry level single seater race series. The programme has been conceived specifically to incorporate and promote a range of high performance low carbon products and technologies – and also to plug the current gap between the top of competitive karting and the entry stages of the UK motorsport ladder. Most importantly, it is designed as an affordable category, not least to attract young, aspirant drivers and engineers into motorsport.
DEE's Head of Motorsport, Nathan Poole says, "We have a plan; we have registered the name and associated domains – and we are in initial discussions with various sport bodies, interested parties and potential sponsors. We are announcing the programme at TSB's 'Driving Innovation' event on Thursday, 15thMay – because of the relevance of both the organisations and attendees involved. We are now inviting interested partner organisations to help us develop the Formula Genesis concept to the next stage, with naming rights and the full suite of marketing opportunities available which are normally associated with Formula racing."
Warwickshire-based DEE-Ltd (Development Engineering and Enterprise) has teamed up with some of the UK's leading race car manufacturers to propose an engine and chassis design for the Formula Genesis programme, which will allow competitors to buy a car and compete for a season at a fraction of the cost of current Formulae on offer.
The Formula Genesis car is based around a supercharged version of Toyota's award winning 3-cylinder 1KR-FE engine. The lightweight 1.0 litre engine fits ideally with current industry trends towards downsizing and boosting to achieve impressive performance, reliability and fuel efficiency. The widespread use of the engine in existing production road vehicles also makes it a very cost effective platform on which to base a race series. Supercharging the stock engine reliably boosts the power output of the 70kg unit to around 120bhp, with minimal changes necessary to the base engine, meaning that re-builds and running costs are comparatively low.
The production Toyota 1KR-FE engine is used extensively across the current Toyota range, and is also found in Peugeot / Citroen and Daihatsu products. This means that spares are robust, comparatively inexpensive and readily available across Europe – and the engine is well proven in terms of reliability. DEE-Ltd holds the European rights for the import, distribution and application of Toyota engine and powertrain products.
Older

Articles