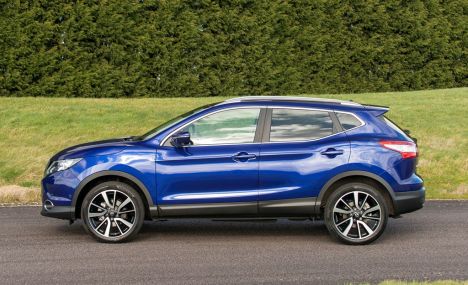 All-new Qashqai stars in Diesel Car Awards
8th May 2014
The British-built all-new Nissan Qashqai – the model which has redefined the crossover sector since its launch in January – has been named Car of the Year 2014 by leading industry title Diesel Car, adding to its already impressive haul of awards and accolades.
The acclaimed new model, which is breaking all sales forecasts, was also named Best Crossover in the magazine's highly-respected annual awards, published today, ending the Range Rover Evoque's two-year dominance of the category.
Diesel Car is UK's largest magazine dedicated to diesel power, alternatively fuelled and eco-friendly vehicles and its views are highly regarded by the nation's fleet buyers and operators. As such, are another clear endorsement of all-new Qashqai's outstanding appeal to the fleet sector and business driver.
Announcing the awards, Ian Robertson, Editor and Publisher of Diesel Car, said: "As well as being the creator of the sector with the Qashqai, Nissan also romps away in the sales charts with the UK's number one best-selling crossover in its class.
"And it's easy to see why, when you examine the no-compromise class-leading approach to its design, and the fact it is built here in the UK."
All-new Qashqai is available with a choice of two state-of-the-art direct injection diesel engines – the 1.5 dCi 110PS (81kW) and the 1.6 dCi 130PS (96kW). The new 1.5 dCi Qashqai's CO2 low emissions of 99g/km means it falls into one of the lowest company car tax bands of just 14 per cent BIK for the 2013/2014 financial year and costs nothing in Vehicle Excise Duty (VED). The most popular fleet model, the new 1.5dCi Acenta Premium has a £18,863 P11D, meaning the 20 per cent tax payer will pay just £53 tax per month, while those on the 40 per cent rate will pay £106.
Older

Articles