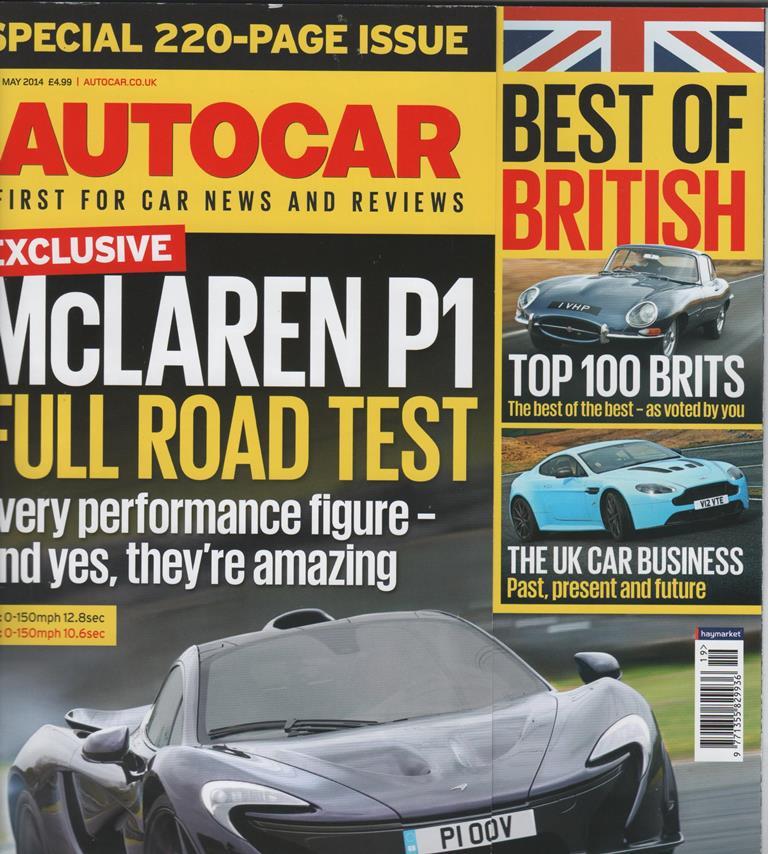 British car industry stronger than ever, says Autocar
7th May 2014
The British car industry is stronger now than it has ever been in its 120-year history – and it is on course to set new records in the next three years, according to new analysis by Autocar magazine.
Established in 1895, Autocar is the only motoring magazine in the world to have documented the UK automotive industry from day one and is still the globe's oldest and most respected motoring title.
Major new investment, as well as 25 years of retraining and rebuilding the industry following the dark days of its near collapse in the early 1980s mean that, at the current rate of growth, Britain will be making more than two million cars by 2017, eclipsing the previous high of 1.92 million in 1972.
Autocar will celebrate the buoyant motor industry with the inaugural running of a brand new event this evening at London's Hurlingham Club. Autocar Stars will honour two industry heroes each year with two new awards, named after the first Autocar editor Henry Sturmey and Sir Alec Issigonis, designer of the iconic Mini.
Meanwhile, this week's special double-issue edition of Autocar features a British car industry supplement, in which readers named the Mini the best British car ever built.
With new car sales hitting a 10-year high in March, the industry is forecast to build 1.57m units in 2014 and has already overtaken France to become Europe's third-largest automotive manufacturer.
According to calculations by the Society of Motor Manufacturers and Traders (SMMT), the domestic car industry turned over £60 billion in 2012, equivalent to three percent of the UK's economy. Similarly, its exports, valued at nearly £31 billion, representing 10% of all UK exports.
Autocar editor, Chas Hallett, said: "The British car industry was on its knees in 1982, when we were only building 887,000 cars a year. This was down to a combination of a desperate lack of top-flight engineers, the legacy of a lack of training following World War 2, and the crippling divisions in British society of the time.
"It has taken nearly 30 years but the industry is now in the best shape it's ever been and is a vitally important part of the country's wider economy."
Jaguar Land Rover is leading the charge to re-establish the automotive industry, pumping major investment into its UK operation, which will result in an additional 410,000 sales over the next three or four years.
Mini too is expanding, with its Oxford plant likely to increase production from 175,000 units to 225,000 and Nissan is investing £250 million on its Sunderland factory to install facilities to produce cars for its premium Infiniti brand.
More than 700,000 people are employed across the UK automotive industry, including 82,000 in the supply chain and 38,500 in the motorsport sector. On average, UK car manufacturers make more than 4,200 cars every day.
Hallett said: "Better management, planning, design and engineering have all contributed to the buoyant state we are in now. Britain has one of the richest heritages of all when it comes to car design and manufacture and the UK is now a genuine world force when it comes to pioneering, innovation and engineering."
Older

Articles