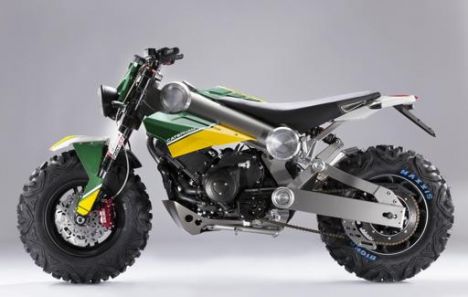 Caterham launches surprise motorbike division
5th November 2013
Caterham has created a motorcycle division in a shock announcement that sees the brand break new ground.
The company, which as well as manufacturing the famous Seven roadster operates one of Formula 1 racing's 11 teams, has revealed three prototype bikes to kick its two-wheeled ventures off.
These prototypes, two of which look more like bicycles, have been scheduled for production in 2014, sparking surprise and debate among bikers and sports car fans.
The first new bike, called the Brutus 750 (pictured) but questionably dubbed 'the SUV of motorcycles' by the firm, is the only internal-combustion model currently planned. It's designed to be incredibly versatile and can even be turned into a snowmobile in four hours.
A much skinnier, retro-designed machine called the Classic E-Bike with an electric powertrain offers a futuristic take on the past. Crucially for sales, this bike does not require the rider to have a motorbike licence in the EU and has a range of 30 miles or more.
A third study is a Carbon E-Bike; another electrically-powered motorcycle but this time derived from Formula 1 technology.
In a press release Caterham said: "The iconic Caterham Seven sportscar is fondly referred to as the closest experience to motorcycle riding on four wheels so this move, the brand's first foray into road bikes, is a natural step and follows the launch last month of the Caterham Moto2 race team."
The motorcycle racing project will be based alongside the Caterham Formula 1 operations in Leafield, England.
Older

Articles