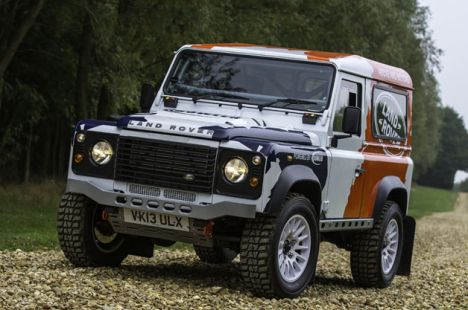 Land Rover and Bowler launch Defender Challenge race series
30th October 2013
Land Rover is pleased to announce its sponsorship of the 2014 Defender Challenge by Bowler, a one-make rally series operated by Bowler Motorsport designed to act as a feeder series to the annual Dakar rally and other global rally-raid competitions.
Continuing the strategic partnership announced in 2012 between Land Rover and Bowler Motorsport, the Defender Challenge will see competition-prepared Land Rover Defenders being used in a one-make, seven round, rally series taking place across the UK. The series will be regulated by the MSA (Motor Sports Association) and each Defender Challenge car will be FIA (Fédération Internationale de l'Automobile) compliant enabling competitors to compete internationally.
The Defender Challenge will provide both experienced competitors, and those with no prior competition experience, a platform to gain the experience required to compete in world-class rally-raid events. For those with no or little experience, the series will offer a complete solution for gaining a licence, training and development and ultimately, competition experience.
The Defender Challenge car is a modified Defender 90 Hard Top utilising the factory-standard 2.2 litre diesel engine which has been uprated to 170 bhp by Bowler Motorsport. All Defender Challenge cars will run the standard 6-speed manual gearbox, controlled Kuhmo tyres and full MSA-approved roll cage and fire extinguisher system. Further aiding the accessibility of the series, all cars will remain road-legal and can be driven to events if required.
The Defender Challenge car will retail at £50,000 plus VAT and be supplied exclusively through Bowler Motorsport. Entry into the Defender Challenge will range between £10,000 and £14,000 depending on package selected.
Older

Articles