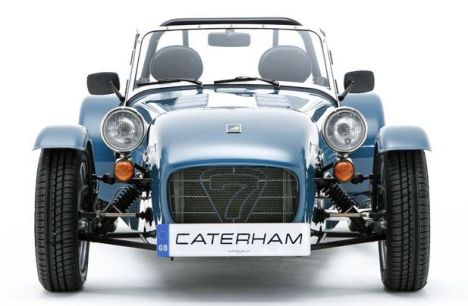 Caterham launches entry-level Seven 160
22nd October 2013
Caterham Cars has opened the order book for the Seven 160 and 165 – its new entry-level variants of the iconic sportscar, powered by a super-compact, turbocharged Suzuki engine.
The Seven 160 is priced from £14,995 in component form, the car's live-axle rear suspension, compact engine and low weight embody the pioneering spirit of early Sevens and represent a new entry-point to the Seven range.
EU customers will get an altered version, called 165 – produces 80hp from its 660cc, three-cylinder, turbocharged engine, enabling it to accelerate to 60 mph in a brisk 6.5 seconds and on to a top speed of 100mph.
With fleet-of-foot charm and handling finesse, rather than outright performance dictating the driving experience, the new cars redefine the budget sportscar segment while introducing new levels of efficiency and value for money to the Caterham range.
The new rear axle, a throwback to early Sevens in terms of simplicity and purity of design, complements the Suzuki Motor Corporation engine and lower overall body weight, while delivering Caterham's acclaimed, intuitive handling experience and a balanced yet playful chassis.
To meet the desired performance criteria, the Caterham Group's engineering consultancy, Caterham Technology & Innovation (CTI), fine-tuned engine performance from its standard output of 64hp to 80hp, while boosting fuel economy and reducing vehicle emissions. Subsequently, the Seven 165 conforms to EU5, EU6 and JC08 emissions regulations.
Caterham Cars CEO, Graham Macdonald, said: "As the Caterham Group as a whole grows and expands into new sectors and industries, our commitment to keep evolving the Seven is very much alive.
"The 160 and 165 offer something truly different to the entry-level market. They're more economical, more accessible and every bit as fun on the road as other Sevens but have their own unique personality."
Macdonald continued: "The engineering challenges we faced when developing the new vehicle were significant. The engine, suspension and the overall dynamics all needed to work in harmony and the various arms of the Group have been successful in pooling facilities and expertise to achieve that."
The number five at the end of the EU spec car's moniker signifies that the vehicle complies with the EU5 emissions standards, allowing it to be sold across mainland Europe and beyond.
Production of the Caterham Seven 160 and 165 is expected to begin in January 2014, with first deliveries later that Spring.
Older

Articles