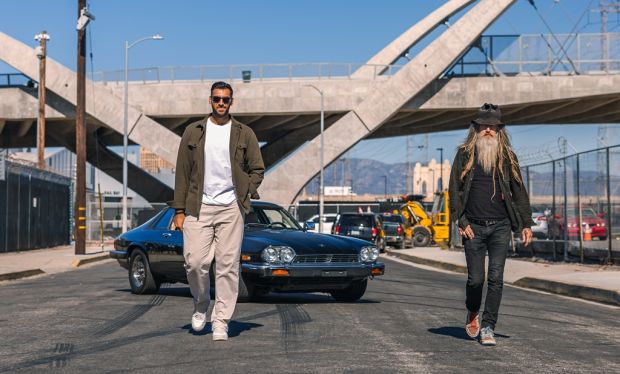 TWR to kick-start its new era with a re-imagined XJS
13th November 2023
TWR will ensure that its first project car is an eye-catching one by partnering with leading automotive stylists Magnus Walker and Khyzyl Saleem. Both will play key roles in crafting TWR's first offering, which will be based on the classic Jaguar XJS.
The TWR name has returned to the automotive engineering world after an absence of two decades thanks to Tom Walkinshaw's son Fergus establishing a company that aims to draw on the same spirit, drive and innovation that helped make the original TWR a global automotive icon.
TWR made its name with grit, determination, and by having the perfect people where it counted. Without the right crew behind its projects, it wouldn't have been the trailblazer it became. The next generation of TWR believes precisely the same thing: People make all the difference.
The modern iteration of TWR will also seek to pay homage to the history and prestige of the original company, and that is why the first project will be based around something indelibly linked to the TWR name: The Jaguar XJS. Produced between 1975 and 1996, the XJS was originally designed by the great Malcolm Sayer, but will now be reimagined and brought into the 21st century by TWR's world-class engineering team, and chiefly its two ace designers.
Internationally renowned designer, car collector and self-confessed petrolhead Magnus Walker has joined TWR as Design Consultant, and brings with him a flair few others can match. Having made his name in fashion design, Walker quickly rose to fame in the automotive world thanks to his collection of classic Porsches – but his love for all things four-wheeled extends well beyond just the Stuttgart marque.
Walker's style is well and truly his own, which is why TWR approached him to work on bringing this next generation of the company to life. Walker, like TWR, is a true one off, and having his input is invaluable. He's been approached by plenty of people in the past wanting him to lend his considerable talents to their projects, but none quite fitted like this one. He has spent time at the TWR facility and he's been involved with every step of the project so far: from design, to suppliers, to powertrain, and he's even advised on what the car needs to feel like when it's out on the road.
Alongside Walker, digital design sensation Khyzyl Saleem has been working as Vehicle Designer for TWR. With his digital creations quickly garnering global recognition, Saleem enjoyed a successful stint in the video games industry before returning to his first love, the automotive world. Saleem is arguably most famous for his social media presence, with his Instagram channel boasting one million followers. His constant stream of reimaginations for supercars and modified icons becoming a shop window for what happens when a truly brilliant mind is given the space to create anything they want. He also founded his own company LTO – Live To Offend – which creates bespoke body kits for some of the world's most famous cars.
Saleem has previously worked on project cars with automotive influencers and racing drivers such as the late Ken Block, Travis Pastrana and more to give their cars a little something that others simply don't have.
It is this blend of world-class talent that will ensure TWR's reimagining of the Jaguar XJS makes a statement about the level of ambition the new company has.
Older

Articles