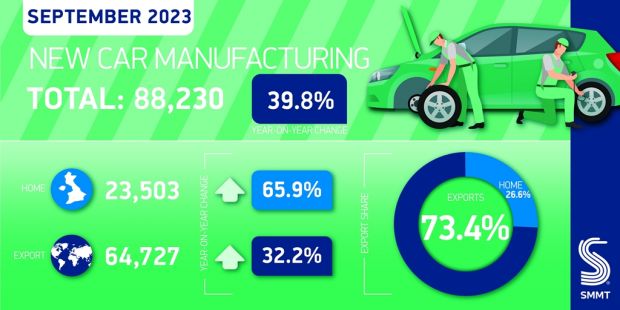 Britain's carmakers deliver best September since 2020
26th October 2023
UK car manufacturing rose by 39.8% in September with 88,230 vehicles leaving British factory lines – 25,105 more than the same month last year, according to the latest figures published today by the Society of Motor Manufacturers and Traders (SMMT). It means September is a triple success for the sector, with it being the strongest month of growth in 2023, the best September since 2020,1 and UK car making now reaching 659,901 units year to date – some 14.9% above the same period in 2022.
Output increased for both domestic and export markets, with production for the UK up 65.9% to 23,503 units and overseas shipments rising 32.2% to 64,727 units. Notable growth was delivered in major markets: the US up 19.8% to 6,591 units; China up 28.2% to 4,776 units; and Turkey up 212.0% to 4,162 units. However, the EU continues to be Britain's leading trading partner by some distance, with 37,563 UK-built cars shipped to the bloc in the month, up 46.1% on last September and representing 58.0% of the sector's overseas trade.
The volume of British cars exported to global markets has risen by 16.3% to 524,973 units since January, with electrified vehicles accounting for more than a third (37.5%) of outbound shipments, up from 26.4% a year ago. Given the increasing importance of EV trade with mainland Europe in particular – bilateral trade which has more than doubled in value in the last three years2 – the tariff-free trade set out in the UK-EU Trade Cooperation Agreement (TCA) must be maintained.
This is under threat, however, from January 2024 when tougher rules of origin for batteries come into force. Given the value of batteries to the total cost of an EV, the rule changes threaten the competitiveness of both UK exports to the EU and EU imports to the UK market. Failure to comply will result in a 10% tariff which if fully passed on would raise the average cost of UK-built battery electric vehicles (BEVs) by £3,600 in Europe, while EU-made BEVs sold in the UK would see an average £3,400 price hike3. A three-year delay to the implementation of these new requirements would, however, maintain competitiveness, supporting British and European manufacturers, and is readily achievable through the existing TCA framework with no need for formal renegotiation.
Mike Hawes, SMMT Chief Executive, said, "A particularly strong period of car making is good news for the UK, given the thousands of jobs and billions of pounds of investment that depend on the sector. With countries around the world shifting to zero-emission motoring, Britain is well placed to be a global EV manufacturing hub if the investment and trading conditions are right. Given the increasing importance of electrified car production, the first and urgent step is for the UK and EU to agree to delay the tougher rules of origin requirements that are due imminently. This would give the necessary breathing space for automotive sectors on both sides of the Channel to scale up gigafactories and green supply chains, both of which are essential for a stable, long-term transition."
SMMT's latest report published last week, Open Roads – Driving Britain's global automotive trade, outlines a series of recommendations that would ensure automotive growth is long term, with progressive trade agreements, an attractive investment environment and a vibrant domestic supply chain all critical to a successful transition.
Older

Articles