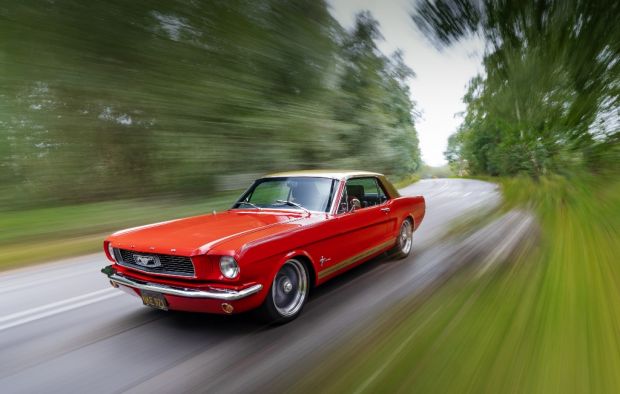 Alan Mann Racing reveals electrified Mustang
25th October 2023
Alan Mann Racing (AMR) is building on its global reputation for classic car restoration and race car preparation, with the launch of a classic 1960s Ford Mustang – but with a powerful new cutting-edge electric powertrain and modern chassis.
Made famous by its race and championship-winning cars in the 1960s, AMR is expanding its existing business with a move into a new generation of engineering, beginning with the development and integration of electric powertrains into the familiar shape of the 1960s Ford Mustang – in either coupe or fastback styles.
"We have been watching the incredible growth of so-called resto-mods with interest," said Henry Mann, son of founder Alan Mann, and director of AMR. "We've seen cherished cars that owners want to improve, and we've seen those that owners want to future-proof, and we believe our new 1960s Mustang Coupe meets both needs.
"This particular model played a large part in the history of our company and is close to our hearts," he added. "It was the first racing Mustang to achieve international success for Ford, and, back in 1964, it was all prepared in-house by my father's operation."
The base car, any 1960s Mustang can be sourced by AMR or provided by the owner, and is carefully stripped and the powertrain removed. Body and remaining mechanicals are either replaced or refurbished to a very high standard, and the whole vehicle is then rebuilt around a state-of-the-art compact electric motor driving the rear wheels, and a modern, racing-standard chassis.
"We are tremendously excited to be growing our core expertise," said Henry Mann, "as this effectively future-proofs our own business as legislation continues to tighten around the use of classic cars and combustion engines. We will always love the sight, sound and smell of a finely-tuned internal combustion engine, but we recognise there may come a time when they are no longer viable. We believe electrification is a good way to keep these fabulous cherished classics on the road."
Each Mustang (depending on the condition of the donor car) takes around 1,000 hours to complete. Customers outside the UK will receive their cars from AMR's new business partner, Mann ePower Cars, based near Philadelphia, USA, with the quality, engineering and mechanical specification mirroring the standards set in Surrey – with many key components shipped from AMR in the UK.
"We not only share an automotive passion with our business partners, but we also share a name!" said Henry Mann.
"Mann ePower Cars is owned by another Mann family, but based in Hatboro, Pennsylvania, USA. Coincidentally the CEO is also called Henry Mann, but we are not related. Henry and his family have a 50-year history of manufacture, sales and service in the precision electronics and hi-tech lighting sector and have independently curated an extraordinary collection of modern and classic automobiles", he added.
Mann ePower Cars becomes a new addition to the holdings of Henry Mann (USA). Manncorp is a renowned specialist in electronics production equipment, particularly the precision machines required for circuit board manufacture. It is also a leader in hi-tech LED lighting, and manufacture from the Pennsylvania HQ under its LED Living Technology subsidiary.
The two Henrys first met at the launch of the Alan Mann Heritage Edition Ford GT at the 2022 Chicago Auto Show. Friendship quickly turned to partnership, driven by shared passion and ambition – and complementary skill sets.
The ePower Mustang conversion process does not just involve the removal of the old powertrain and the addition of a compact electric motor, control electronics and batteries – the entire shell is stripped and restored. The chassis is upgraded with high quality racing-standard componentry, developed by experienced Formula One designers, with independent double wishbone suspension with billet aluminium uprights replacing the original's front struts and rear leaf springs. The 1960s braking system is replaced with a powerful cutting-edge regenerative system featuring ventilated front and rear discs with six-piston callipers in front and four-piston callipers behind.
Helping transmit the Mustang's 300nM of torque to the road is a low-maintenance Torsen limited-slip differential.
The design and feel of the original 60s interior are retained as much as possible, although every element is either restored, replaced or substituted, with the emphasis on a period-correct aesthetic. The only modern additions being more comfortable and supportive racing seats, climate control, Bluetooth connectivity and a carefully integrated video display.
AMR has worked hard to balance the need for a useable range, exceeding the 200 miles of the '60s car, with an acceptable overall weight, which allows a genuine dynamic personality fully in keeping with a modern, fast, and fun GT car. Charging too has been optimised, using either AC or DC chargers, with a 20 per cent to 80 per cent recharge taking just 40 minutes.
"The original engine and gearbox accounts for around 285kg," explained Mann, "and that's almost the weight of the installed battery pack – it's a little heavier, but not massively so."
AMR and Mann ePower Cars expect strong interest from existing owners who wish to 'electro-mod' their classic Mustangs, but equally, Ford built over a million Mustangs of this type, and there remains a robust supply of suitable donor vehicles for those preferring to purchase a finished vehicle.
The ePower Mustang becomes the first in a series of exciting Alan Mann Legacy Edition cars to be produced, with others to follow soon.
Older

Articles