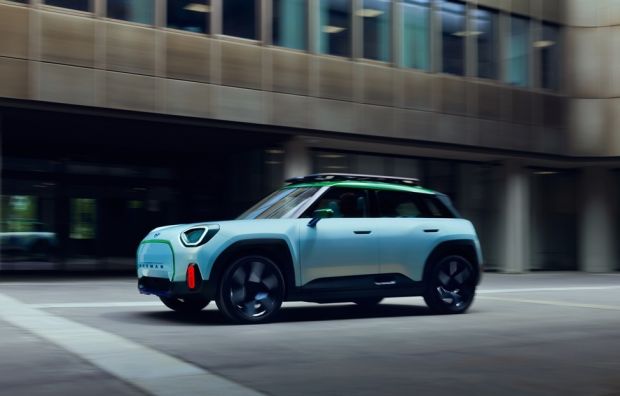 The MINI Concept Aceman: the first all-electric crossover model
27th July 2022
The new MINI family is taking shape. The brand presents the MINI Concept Aceman, an initial design preview of its future model generation. This concept car puts the spotlight on the design and technological innovations MINI sees as defining the brand of the future. An all-electric drive, the Charismatic Simplicity clear and reduced design language, a new digital interior experience and a responsible material design with absolutely no leather or chrome elements – the MINI fuses these attributes together with the concept of its very first crossover model for the premium small car segment.

In the next model generation the MINI Cooper in the iconic three-door body shape, which has been reinterpreted time and again over its entire 60-plus-year history, will be joined by a crossover model for the first time. "The MINI Concept Aceman provides an initial glimpse of a completely new vehicle, bridging the space between the MINI Cooper and the MINI Countryman in the model family's future," says Stefanie Wurst, Head of the MINI Brand. "This concept car reflects how MINI is reinventing itself for its all-electric future and what the brand stands for: an electrified go-kart feel, an immersive digital experience and a strong focus on a minimal environmental footprint."

The beginning of a new MINI design era.
"The design language of the MINI Concept Aceman heralds the beginning of a new design era for MINI," explains Adrian van Hooydonk, Head of BMW Group Design. Design features typical of the MINI brand have always been unmistakable, Hooydonk goes on to say. "We are returning to these now, but at the same time consistently combining them innovative technology." With this approach we are redeveloping the MINI design icons, with all their analogue strengths, for the digital future.

Along with the clear and reduced exterior and interior design, the holistic user experience of light, movement, interaction and sound also combine to define this style. Surfaces constructed from knitted recycled textile with fresh colour contrasts combine with seamless digital controls, with a new OLED display as the central interface. This all creates a unique interior experience that remains unmistakably MINI. The all-electric models of the next generation are also given an independent sound design for the first time, providing emotionally compelling drive sounds and an authentic background for the new Experience Modes.
Older

Articles